ANCA LAUNCHED TOOLDRAFT 2D TOOL DRAWING
09-09-2015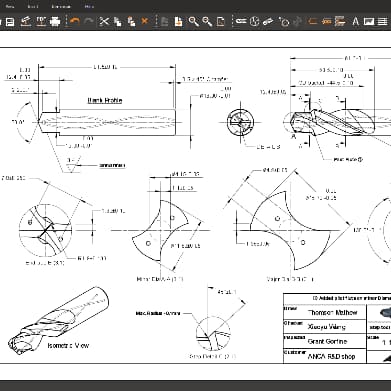 ANCA a company focusing in CNC grinding machines and CNC systems has launched its first ToolDraft software package for creating 2D CAD cutting tool drawings.
ToolDraft now produces 2D drawings simply by clicking on the ToolDraft icon in CIM3D (V8.1 onwards), removing the need to export the 3D tool image to an external CAD package.
Once the tool is imported different tool views can be added. These views include side, endface, shank and isometric, amongst others. First and third angle projection views can also be added with side and endface views linked.
These views can be positioned anywhere on the page and all tool views can be scaled by page scale or individually. Leader lines, surface finish annotations and centre marks can be added to tool views.  
A range of dimensions can be added when you have positioned the tool view. Snappable points appear on tool views for easy dimensioning and accuracy. Dimensions can have a prefix, suffix and can be overridden. Unilateral, bilateral and named tolerances can also be added to the dimensions. A library of drafting symbols is available to add to drawings to add to their clarity.
Once the tool drawing has been developed it can be printed, or exported to pdf or dxf, allowing the user to document the tool grinding processes for quality control and information accuracy.
ANCA
+61 3 9751 8200