ANCA Group expands its operations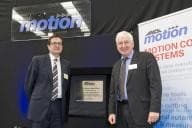 Industry Minister Greg Combet and Mr Pat Boland at the unveiling ceremony
The ANCA Group has opened its new ANCA Motion headquarters in Melbourne.
Minister for Industry and Innovation Greg Combet and the Chairman of ANCA Pat Boland unveiled a plaque to mark the occasion.  
ANCA Motion, a division of the ANCA Group, manufactures innovative motion control systems.  Its computer controlled systems form part of ANCA's market leading tool and cutter grinders manufactured at a 14,000 sqm site at the same industrial park.  
ANCA was launched in 1974 by Pat Boland and Pat McCluskey, who are still owners of the ANCA Group.  
"The ANCA Group is a truly global company employing approximately 800 people worldwide," said ANCA Group CEO, Grant Anderson.
Mr Anderson said ANCA Group is committed to innovation, spending about 9 per cent of sales on research and development each year.
Pat Boland congratulated David Fisher, ANCA Motion General Manager, and his team, on the opening of their new facilities in Australia.  
He said 70 full-time staff will work in the new building, designing and manufacturing CNC solutions, Servo Drives, Motors and associated equipment.  
Mr Combet told the crowd that: "to be competitive we've got to be genuinely a highly skilled economy."  
He branded ANCA 'a great success story'.
ANCA Motion had developed "much sort after systems for computer controlled machinery," Mr Combet said. 
ANCA Group's key export markets include Germany, Japan, China and the US.
"These are not easy markets to market machine tools into," Mr Combet said.
ANCA exports virtually its entire production with exports totalling $800 million to date.
ANCA also has offices in the UK, Germany, Italy, Japan, China, Thailand, Brazil, India and the US and a comprehensive global network of representatives and agents.  
Its clients include Boeing, General Electric, Sandvik, Rolls Royce and Johnson & Johnson.
ANCA continues to make considerable investments in state-of-the-art factory equipment and R&D.  
The new ANCA Motion building represents the commitment of the ANCA Group to growth and continuous improvement.
ANCA Pty Ltd
Ph: 03 9751 7300