Materials Handling & Equipment
Published 14-03-2022
| Article appears in February 2022 Issue
Anatomy of an essential equipment partnership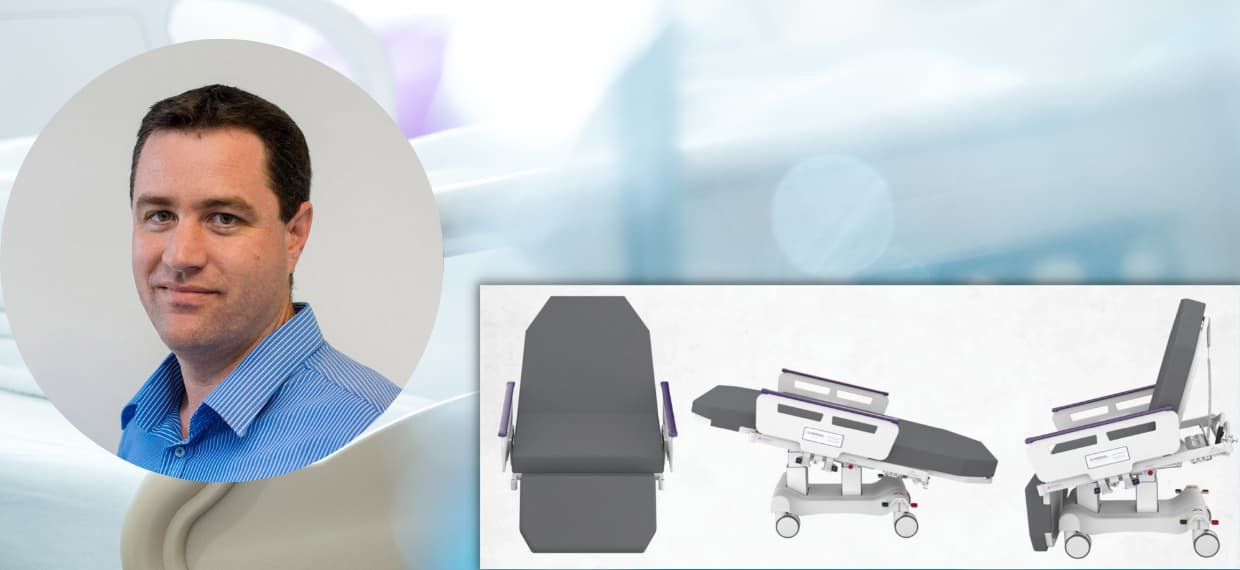 Modsel, one of Australia's trusted hospital equipment manufacturers, has been  operating out of a regional industrial site in Maryborough Queensland for over   twenty years. It wasn't long after the company launched, that it began a strong  partnership with Tente, a global supplier of castors and wheels. 
According to Modsel director Lester Rowland (pictured), this relationship is "essential" as the success of the Modsel range is dependent on the mobility and security function of its castors and wheels. 
"Our range is focussed on the movement of people and it is the castors and wheels which carry the weight of the patient that need to be manoeuvrable and robust," he  explained. 
Modsel, which started as a design firm, now leads the Australian market in the manufacture of custom medical equipment at scale for any sized facility. It supplies bespoke equipment including IV poles, stretchers, medical procedure chairs, transport chairs, shower bathing trolleys and bariatric products. 
Adaptable range 
Aligning with Modsel's customised equipment model, Tente's castor and wheels range fits perfectly into its designs and are highly adaptable, Rowland told Industry Update. 
The company's clients are extensive, from the smallest of clinics through to large-scale hospitals around Australia. According to Rowland, customisation is a key differentiator between Modsel and its competitors, as its range is manufactured for the specific systems and the medical environment that Australian healthcare workers inhabit. 
"Larger global companies make and distribute more generalised big equipment orders because they have the scale, however this has given Modsel the opportunity to create a customised market niche. We need to be dynamic to survive," Rowland explained.
This market positioning also enabled Modsel to begin to globally export its equipment. It started with the UK in 2006 and then the US in 2016. Rowland explained that although there has been disruption in the UK since 2009 as a result of the GFC and Brexit, business has picked up again and is growing. 
Physical footprint to double 
Modsel's export market currently comprises around 10 percent of its overall business and Rowland predicted that this may rise to 20 percent over the next five years. One of the factors driving this is a recent purchase of around 3,000sqm of land adjacent to its existing operations which will see its physical footprint double. 
"We were fortunate to acquire one of the last available blocks of land in the area  which will enable us to increase our manufacturing and fabrication capacity that we have been gradually bringing in-house. We have invested in new computer controlled machinery and we are also adopting Industry 4.0 which means that we can take digital information to every stakeholder," he said. 
High quality products 
According to Rowland, when the company first started looking for a supplier, they were attracted to Tente's high quality products which had a well-founded European reputation for professionalism and reliability attributed to its strong testing process. 
"Their products were also well aligned and designed for the medical industry, it actually gives us peace of mind that the company takes its quality assurance very seriously," Rowland said. 
He said that one of the primary benefits for Modsel of Tente's Australian operation is its localised culture developed by the Australian management headed by managing director Grant Smith. This is a distinct advantage as the company is globally owned by Tente International which established the business in 1923, in the Tente district of Wermelskirchen, Germany. 
"Tente's Australian management understands our products and the local market dynamics and trends and they have the flexibility to quickly adapt to conditions that are impacting us. 
"For example, the recent supply crisis they understood how it was impacting our business. They helped in supply and payment arrangements, and were flexible around our specific needs," he said.
Despite the supply crisis, there has been strong market demand for Modsel equipment over the past two years, as COVID has impacted the needs of the healthcare sector. 
Future challenges 
While Rowland said the company was optimistic about the future, they are looking carefully at the price of components, stock and supply chain issues. 
"By working with Tente on these important parts of our product, they are willing to air-freight immediately if the need arises" he added. 
Meanwhile, the business development manager Damien Lane told Industry Update that the 15-year business relationship between Tente and Modsel has been "long standing and strong" based on mutual respect and an open working environment.
"Modsel is a leading supplier of medical equipment and Tente is the world Leader in Medical castors. Modsel is an innovative company and is open to explore Tente's new products and extensive market knowledge to accompany their particular needs when exploring new opportunities", Lane said.