AMTIL'S 2018 NATIONAL CONFERENCE OPENS FOR BUSINESS
04-06-2018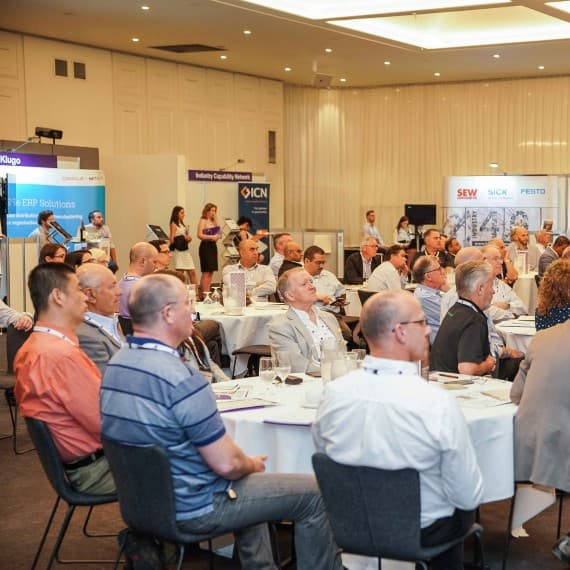 Registrations are now open for the 2018 AMTIL National Conference, which will be held in Melbourne on the 22nd August. Early bird rates are available until the 31st July.
With the theme of "Strategies for manufacturing resilience and growth", the one-day conference will be held at Leonda by the Yarra in Hawthorn, Victoria. The event will take participants on a learning journey that will help them build resilience in their businesses, look outside their traditional avenues for opportunities for growth, and inspire them to think outside the square.
The opening keynote from Dr Jens Goennemann, Managing Director of the Advanced Manufacturing Growth Centre (AMGC) will explore the topic "Building resilience in Australian manufacturing". For the closing address, the acclaimed athlete Deanna Blegg will be discussing "Personal resilience" and the incredible adversity she has dealt with and triumphed over in her life so far.
Also speaking will be Claire Madden, the founder and director of strategy and communications agency Hello Clarity, and a leading voice on Generation Z. As an expert in interpreting social trends, demographics and generational change, Madden has been commissioned by leading companies and brands to interpret the changing landscape and communicate the implications for business and society, andhe is the author of "Hello Gen Z: Engaging the generation of post-Millennials". Madden's conference address will be on "Creating an engaging culture: inspiring the next generation of staff and teams".
Another highlight of the speaker programme will see Gary Bertwhistle open up proceedings after lunch with the question "Who stole my mojo?".
Bertwhistle is a pioneer in creative and innovative thinking, with a career spanning retail, music, media, corporate education and radio, and has helped organisations of all sizes in all industries to think differently and maximise their potential. His presentation will offer an array of simple, easy-to-implement tips and tools for putting the spark back into your day.
Midway through the morning, the conference programme will split into two streams, with sessions on leadership and on technology. In the technology stream, Rick Shalders, Director of the Industry Development Unit at Raytheon Australia will shed light on some the opportunities to work with his company, revealing what's involved in becoming a supplier for the defence industry giant.
Meanwhile, headlining one of the leadership sessions, Ian Cattanach will discuss "How to structure your manufacturing business for growth and profitability".
As Director – Business Advisory for William Buck, Cattanach has a broad range of experience in the manufacturing industry, including tax, cash flow, information technology and strategic planning. This enables him to offer clients a holistic view and provide advice that takes into account all aspects of their affairs.
Alongside the conference programme, the event will also feature exhibits by some of the most dynamic organisations engaged in advanced manufacturing in Australia. A small number of exhibition stands are still available, offering a fantastic opportunity for companies to present their businesses at one of the key events in the Australian manufacturing calendar.
As well as a packed series of presentations and a diverse line-up of exhibitors, the 2018 AMTIL National Conference will also offer plenty of chances to network and interact with peers. Lunch, morning and afternoon tea will all be provided, and after the conference programme concludes delegates are invited to stay for an exclusive networking cocktail function.
AMTIL
03 9800 3666
www.amtil.com.au/Events/AMTIL-Conference