AMCI NR25 PROVIDES SIMPLE AND RELIABLE PERFORMANCE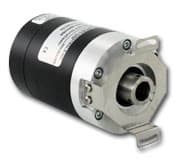 AMCI's NR25 DeviceNet networked rotary-shaft resolver is the heavy-duty solution for single-turn and multi-turn position applications requiring an easy-to-use and incredibly durable product.
The networked resolver supplies absolute position feedback without glass discs or sensitive LED components, enabling it to withstand high levels of shock and vibration.
The IP67 rated housing guarantees protection against dust and water ingress, and the NR25 resolver's impressive shaft load ratings and ruggedness is unparalleled.
These absolute rotary resolvers provide up to 30 bit total resolution, delivering 16 bit (65536 steps) per revolution and up to an additional 14 bit (16384 revolutions) for multi-turn versions.
AMCI's DeviceNet resolvers are designed for simple set-up and trouble free performance. The resolvers are compatible with all Allen-Bradley & Schneider PLCs and PACs that support DeviceNet, and as they are programmed using Rockwell Automation's RSLogix software or Schneider's Unity Pro software, a hassle free integration with your application is ensured.
All programmable parameters and the preset offset are stored in the internal non-volatile memory for speedy retrieval, while the field selectable dip switches and reset button are conveniently accessed through the unit's back cover.
The entire series of heavy-duty DeviceNet resolvers are ODVA compliant and compatible with all PLCs/PACs that support DeviceNet.
The NR25 series networked resolvers are available in absolute single-turn and multi-turn packages using an IP67 rated 2.5" size industrial housing. Solid shaft and hub shaft styles are available to suit various mounting requirements.
Advanced Micro Controls Inc.