AMAZON DRONES PROBABLY WON'T NEED TO DODGE BULLETS
25-01-2016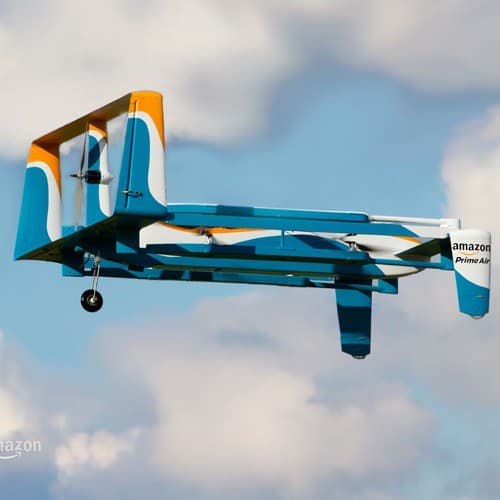 Amazon's ideas for drone delivery have captured the publics attention for some time, but there are plenty of logistical and practical problems to solve before the idea is ready to be implemented.
The obvious issues, such as drone navigation, package loss, tracking, drone laws and regulation, and battery life, are all well on their way to being solved, but there's one issue that has been hyped up recnetly: people with guns.
The fear is easy to see: once the Prime Air program becomes widespread, an opportunistic shooter could, with enough patience, shoot down drones and make off with their cargo.
Luckily, this fear isn't as sensible as it seems on the surface.
Firstly, the drones are not often going to be carrying expensive items: for most thieves, it's not going to be worth the time and risk to shoot down a drone for a pair of clashing argyle socks, or a set of staple refills.
Further, the idea of hitting a small, fast, flying object with a rifle or handgun is not very likely. Instead, people use shotguns when hunting for the wide spread of shot, but they have neither the range nor power to reliably take down durable drones.
Most importantly, it's not very likely that police and neighbours are going to put up with people shooting at the sky in the streets.
Amazon points out that, as things are, you don't see terribly many delivery trucks being robbed for their cargo, and they believe that once the novelty of these drones dies down, things won't be any different for the drones.