AMAZON ASPIRES TO FAIL EVEN HARDER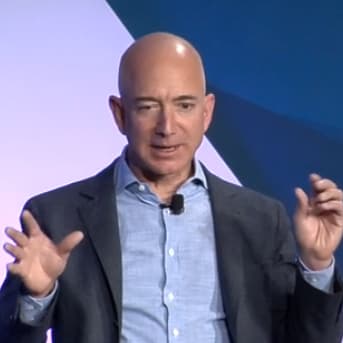 Jeff Bezos speaks at WP's Transformers event.
After the multi-million dollar failure that was the Amazon Fire phone, the CEO has told everyone to buckle up: even larger failures lie in store.
He's not being pessimistic, though. In fact, he's downright optimistic: Jeff Bezos is adamant that a business has to fail, and fail lots, in order to succeed.
"The size of your mistakes needs to grow along with [your company]. If it doesn't, you're not going to be inventing at [a] scale that can actually move the needle," Bezos said during an interview with the Washington Post.
This is a far cry from the failure-shy culture many consumers have come to expect from large companies, where any hint of uncertainty can send stock prices plummeting.
The Fire phone, based on the success of the preceeding Fire tablet, hit the market to lukewarm reviews and a lack of basic features.
While it was packed with innovative features, such as hands-free screen control, Mayday connection to tech support, and magnetic tangle free headphones, these just didn't cut it.
The phone lacked compatability with commonly used apps, had a short-lived battery, and had no ability to transfer app purchases from previous phones. These are lessons Amazon has seemingly embraced, learned from, and we can all benefit from.
"If you think [the Fire phone] is a big failure, we're working on much bigger failures right now, and I am not kidding. And some of them are going to make the Fire phone look like a tiny little blip."