Amada is bending all the rules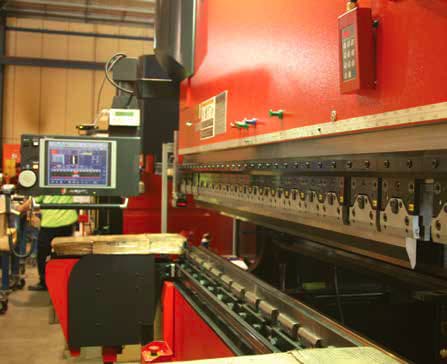 Sevaan Group's latest addition to its technology base, a 220 tonne Amada bender, has opened new opportunities for the industrial sector.
The Amada is ideal for high tolerance bending of plate steel ranging in thickness from 1-25mm.
It can be used in basically any industry that uses metal including mining, rail, agriculture, general engineering, defence, sheet metal, public works, and the energy sector.
The 220t bender adds to Sevaan's drive to include as many skills sets and fabrication services in-house.
Sevaan Group CEO Tony Panrucker believes having as many services in-house is crucial to reducing costs and reducing downtime.
"Whether it is for new items or manufactured components for replacement purposes, we take extra steps out of the equation as everything is done here," said Mr Panrucker
"Our Amada 220t bender is highly automated, accurate and fast and allows us the advantage of taking on jobs for production runs or once-off orders.
"The machine can be programmed in the office – therefore it can be programmed offline.
"That means a lower cost in set-up, elimination of trial and error, and ultimately a reduction of costs for our clients.
"There is no need to make extra units for each job – there are no trial pieces that go to waste which means a win-win for both us and our clients and an overall saving in time and money.
"There are not many companies in Sydney with a 220 tonne bender at their disposal, and not many would have the accuracy of our Amada.
"When clients specify a ±3mm tolerance we have no trouble easily outdoing this and delivering ±0.5 even in the thickest plate or even closer tolerances on the thin material."
Sevaan Group operates a highly integrated fabrication business encompassing an in-house paint and powder coating facility, a robotic welding bay, spot welding facilities, software specialists, technically qualified staff and a newly commissioned grit blasting centre with in-built enviro waste sorter.
Sevaan Group
Ph: 02 9824 5555