ALLSHELTER CONTAINERS PROVIDE SAFE AND INEXPENSIVE PROTECTION
31-07-2015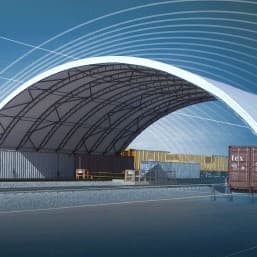 Every manufacturing plant needs to have some kind of shelter from the elements, but building a brick-and-mortar installation at every site isn't always practical. Container shelters, however, are easier and faster to install, and far easier to customize.
Due to great improvements and new technologies in the production of container shelters, container shelters have become the most affordable and reliable option for covering manufacturing facilities.
Allshelter produces shelters that go above and beyond what people expect, constructing shelters customized for each individual job site and region. Shelters are constructed entirely to specification, meaning if you need a shelter that can withstand 300km/h winds, Allshelter can do it.
Every shelter is made of light but durable materials and come with reusable cradles, which are part of every single container shelter set. If you decide to move your facility to another location, the shelters can be smoothly dismantled and re-installed in another area, with no reduction in their quality.
Companies that have decided to protect their work environment with Allshelter can testify that their containers also protect from internal dangers, such as noise amplification. The fabrics used in production of these containers absorb sound waves, so that workers experience lower noise levels, reducing health impacts and making communication easier.
The shape of these shelters is geared towards the even distribution of natural light; even on a cloudy day, there is usually enough light inside the shelters to work efficiently and safely. That way, the cost of lighting the facility is reduced.
No matter if you have a large plant or a small family business, the shelters produced by Allshelter can be tailored for you. Their manufacturers have equipped it with detailed assembly guidelines, which allow every user to install them on their own. Together with all the other user- and worker-friendly features, container shelters are a strong choice for every manufacturer.
Container Shelters
Ph: 1800 90 8888