| Article appears in October 2021 Issue
Allmach Offers 24/7 Online Ordering Services with the New E-commerce Website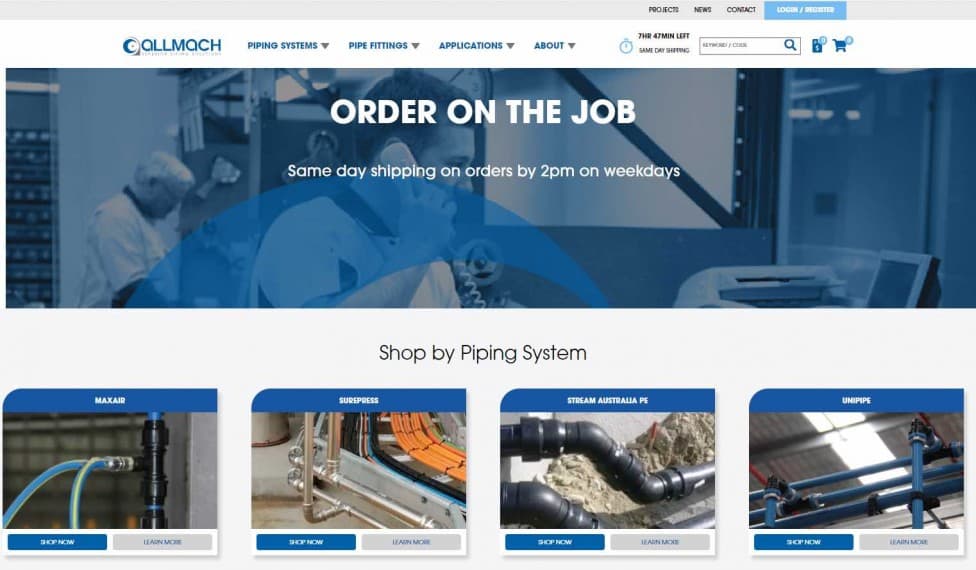 Allmach has launched a new e-commerce website, offering its customers the benefits of shopping for piping systems 24/7. Customers can use their electronic devices, including mobiles, to manage their account details, place and review orders, and save quotes and favourites. This gives Allmach's customers greater flexibility for when and how they order piping products. The new website is part of Allmach's commitment to building a digital presence with innovative functionality.
Geoff Pugh, Allmach CEO, said, "After our recent rebrand, it was Allmach's goal to step into the digital commerce space and to offer our customers the next level of convenience by ordering piping products online anywhere, at any time. This has enormous benefits for our customers who can order 'on-the-job' for processing first up the next day. This initiative reflects our innovative approach by bringing new systems and products to the piping market. In addition, our friendly and experienced customer support team are always available for customers who may require any assistance or advice with their piping requirements."
With three warehouses and support teams in Sydney and Brisbane ensuring timely product delivery Australia-wide, Allmach continues to provide the high-quality products and services that customers value. These key elements have been the cornerstones in making Allmach a market leader in piping solutions since 1995. Visit Allmach's new website at www.allmach.com.au.
Allmach Pneumatic & Fluid Systems is a major wholesaler and distributor of plastic, aluminium, and stainless-steel piping systems. Allmach has been an established business for over 25 years, with modern, fully equipped warehouses in Sydney and Brisbane, stocking a comprehensive range of quality piping products.