Alleviating downtime can be a fine art
31-08-2010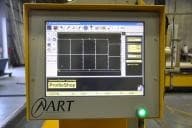 The mining industry today does virtually everything on a giant scale. 
There are vast mining deployments on almost every continent producing everything from coal, ore, and minerals to other natural resources. 
These sites must work around the clock to be operationally efficient and productive and must experience minimal downtime due to machine breakdowns.
Many mines are located deep in Australia's rugged outback, where 24/7 Internet connectivity is the only way to have connectivity to the outside world and to training, assistance, updates and maintenance services. 
As a result, mining operations in Australia and around the globe have turned to wireless technology to help alleviate operational and financial issues caused by machine breakdowns.
Communications have been streamlined by providing real-time telemetry to help identify and stop problems before they cause costly operational shutdowns and delays. 
ART's remote access to its machines can alleviate operational and financial issues. ART sees the advantages of interactive networking with its CNC routers, plasma cutters and the new Metaltek modular multi-function CNC machining systems in three categories: before, during and after production or operation. 
Before jobs start, ART's remote access technology can provide job scheduling and production control. It can access tooling databases, verify CAD/CAM, or train operators, to name only a few.
During machine operation, the direct connection to ART's headquarters in Brisbane can provide remote diagnostics and remote operation. 
Real-time monitoring of position, program and displays is possible from any PC on the network. Machine data can be efficiently gathered and remote monitoring at the management and supervisory level is also possible.
After the job, ART can provide data for productivity analysis along with a permanent record of all machine data before, during and after completion of the job. 
One area where the PC-based control is invaluable to remote operations such as mines or oil and gas fields is serviceability. 
Because so much of the machine's functionality is determined by software – and because that software is externally accessible via the internet – it becomes possible for troubleshooting diagnostics as well as software upgrades to be executed remotely.
The diagnostics screen gives readouts on internal machine information. It displays gas selections, inlet pressures, flow settings, temperature and coolant flow. 
Real English pop-up messages and automatic tests help to verify correct operation.
That's allowing users to secure a significantly greater measure of ART's repair and application support without the physical presence of a service technician. 
Combining remote PC-access software with multimedia capabilities, ART's ProfileShop V3 touchscreen controller allows a service technician to examine virtually any aspect of control functionality as well as many aspects of the machine itself — regardless of where the machine is physically located — while also interacting with the machine operator via voice and video links. 
The service engineer can diagnose and troubleshoot problems or issues with the machine, decreasing service times by providing accurate and real-time information.
Advanced Robotic Technology (ART) Pty Ltd
Ph: 07 3393 6555