ALL SYSTEMS GO FOR OMRON IN 2015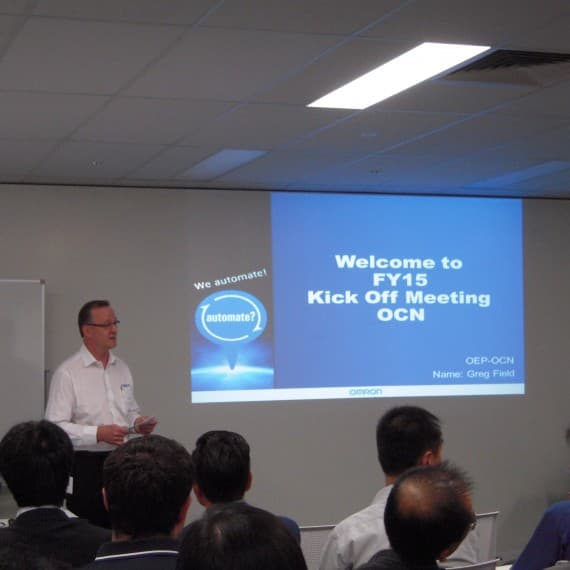 About 75 key management and staff members from Omron's Australian and New Zealand offices have been given a special preview of new products to be unveiled this year.
Omron's Sydney office hosted the annual "Kick-Off" Meeting where employees are briefed on events scheduled for the Japanese financial year ahead (April 1, 2015-March 31, 2016).
Omron sales staff and distributors from Sydney, Melbourne and Brisbane attended the two-day briefing along with key staff from Auckland, Wellington and Christchurch.
An eight-member delegation from Singapore (Omron's Asia-Pacific headquarters) was also present. They came prepared with five demonstrations to give members a better understanding of the new products.
Japanese representative Mr Takeshi Fujimoto, Department Manager of Industrial Automation Business, gave attendees a presentation on Omron's new Sysmac platform and its latest features.
"Staff were given a road map on Omron's plans for the year and were briefed on the range of products to be released this year, said Mr Harry Mulder, Manager, Engineering Department.
"A number of special promotions will also be held throughout this year including trade shows, said Mr Mulder.
New products including:
·       A new series of light curtains (including safety monitoring/relay)
·       New NX I/O Series – a stand alone safety system
·       New series of NJ controllers (extending the range from both low end and high end)
"These new products will be rolled out progressively in coming months," said Mr Mulder.
Omron Electronics
Ph: 1300 766 766