Albright and Wilson choose Lencrow
31-08-2010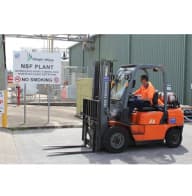 Lencrow Materials Handling has been the forklift supplier for Albright & Wilson for the past five years and they have signed for another term.
This time Lencrow has supplied the EP brand of equipment from China.
Albright & Wilson is the leading supplier of phosphates and surfactants for the household and personal care market.
Phosphates and surfactants are two of the most important performance ingredients in many of the household and personal care products we use every day – products such as laundry detergents, dishwashing detergents, disinfectants, floor cleaners hard-surface cleaners, lotions, liquid soaps, shampoos, conditioners and more.
Ross Smith, Hire Manager for Lencrow Materials Handling says: "We offered the EP brand of equipment and having imported this brand since 2003 we have been impressed by the quality. With the requirements for Albright and Wilson we knew EP would offer both the performance required as well as the ability to keep to a tight budget. The units have been operating on their Sydney site for over six months now and are costing less to run than the last brand we supplied."
Joanne Smith, Purchasing Officer for Albright & Wilson says: "We have been using Lencrow for many years and have been impressed with their recommendations and service. The option this time of the EP product offered us new units at a considerable saving over other brands."
The seven units supplied are 2500kg units with container mast and side shifting fork positioners fitted. They also required one flame proof unit which was also EP and the flame proofing was done locally in Australia to insure compliance to local requirements.
All Lencrow EP units are built to strict requirements and comply with Australian standards.
They are supported Australia wide by the Lencrow after sales support team, offering service, technical support and spare parts.