Published 07-08-2018
| Article appears in April 2019 Issue
ALARM PROTECTS OVERHEAD ASSETS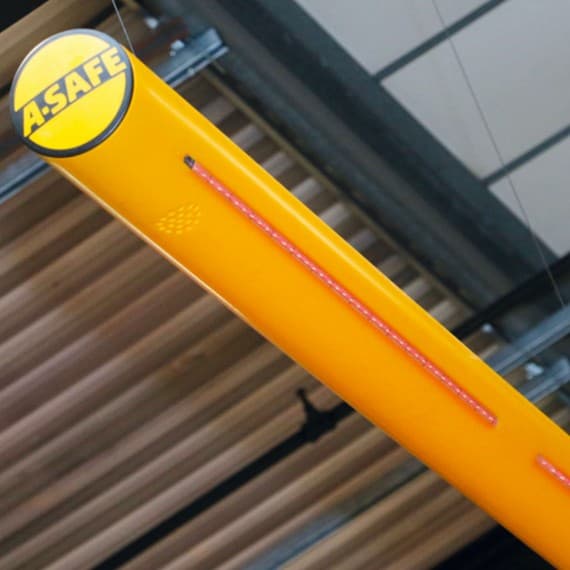 Long known for its safety barrier technology, A-Safe has turned its attention upwards with its latest innovation. The Alarm Bar is designed to protect low-hanging infrastructure from impacts from high-level vehicle traffic, whether it be a loaded forklift or a reversing semi-trailer.
Unlike A-Safe's barrier technology, the Alarm Bar does not block impacts. Hanging freely from the ceiling, the bar provides an early warning before the impact occurs. On contact, twin buzzers each emit a 102dB alarm (which lasts for 20 seconds) and internal LED indicator strips flash bright red for 40 seconds.
The Alarm Bar is rugged. It's made from the same Memaplex shock-absorbing material used in A-Safe barriers, which means it's also immune to corrosion, water resistant, self-coloured and UV stabilised for minimal maintenance.
It also incorporates smart sensor technology that is capable of differentiating between natural vibrations or breezes and true impacts, thereby avoiding accidental tripping and false alarms.
A-Safe Alarm Bars are easy to install, and are suitable for safeguarding doorframes, loading docks, infrastructure and overhead walkways, as well as key assets such as lighting, sprinkler systems and ventilation pipes.
A-Safe Australasia
02 9625 8927
www.asafe.com