AKZONOBEL HELP SAVE LIVES, TIME, AND THE ENVIRONMENT IN A SINGLE STROKE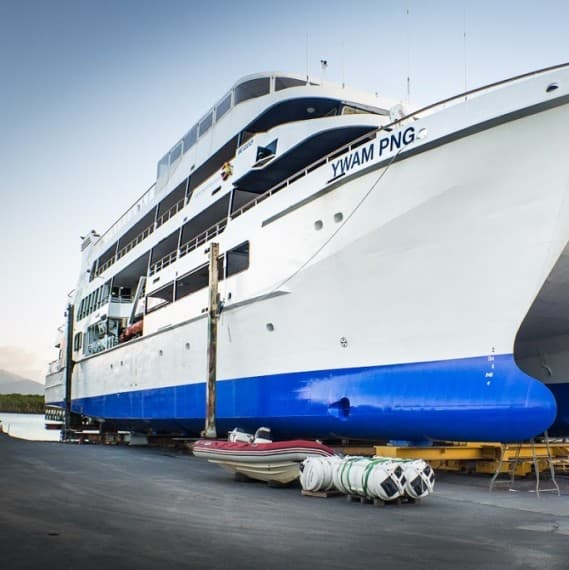 AkzoNobel has supplied the charity group Youth With a Mission (YWAM) with its Intersleek boat hull coating, allowing the charity to continue supplying medical aid and training in Papua New Guinea with a reduced environmental impact and operating costs.
Intersleek provides an antifouling coating that protects the hull of the boat from buildup of biofilm and barnacles, vastly reducing the need for maintenance and cleaning. This lack of buildup also means that, while on open water, the friction of the boat's hull remains low, meaning faster speeds and lower fuel consumption.
"Sustainability is central to our strategy and we want to integrate it into the heart of everything we do. The medical ship, with its new coating, can now reach far-flung communities faster, while saving fuel and emitting less carbon dioxide and air pollutants into the environment," said Leon Kyle, Regional Manager for AkzoNobel.
For YWAM, this new coating translates into significant savings: their fuel usage has been cut by a fifth, from 6000 litres to 4800, saving them $1500 per day, meaning more money can be allocated to direct medical assistance. Leon Kyle estimates that this reduces the ship's Co2 output by three tonnes per day.
The unique way that the Intersleek coating works also means that their medical ship, the MV YWAM PNG, is able to reach the remote locations it services faster, and spend more time on location helping local communities.
The coating works without the use of toxic biocides: compounds that leech from the hull coating and kill biofilm and water life directly. These chemicals and metals remain active in the water after the boat leaves, an unacceptable cost for YWAM, who do not want to compromise the ecosystems of the PNG waterways.
Mr Kyle is adamant that, unlike some of AkzoNobel's competitors, biocides are not a path they want to explore. Instead, Intersleek protects the surface beneath by providing a surface that is very low friction.
While this does not prevent the growth of biofilm or barnacles, it means that they become far easier to remove. With Intersleek, a boat traveling at 6 knots or faster will see the attached biofilm simply slough off as it moves through the water. Even if left stationary for long periods of time, accumulated growth is easy to remove. 
Expensive dry-dock maintenance, usually undertaken every 12-15 months, can be done once every five years, granting a dramatic increase in operating time.
As one final added bonus, "This is the only coating of its kind which you can use to claim carbon credits," said Mr Kyle. Users can claim the difference in fuel usage from the 12 months before and after application.
The MV YWAM PNG is currently docked for refitting in Townsville, undergoing renovations. In February 2016, it will set sail for its next deployment, and become one of the tens of thousands of ships worldwide to operate with Intersleek.