AIRLINE CONTRACT BENEFITS THE LITTLE GUY
17-08-2017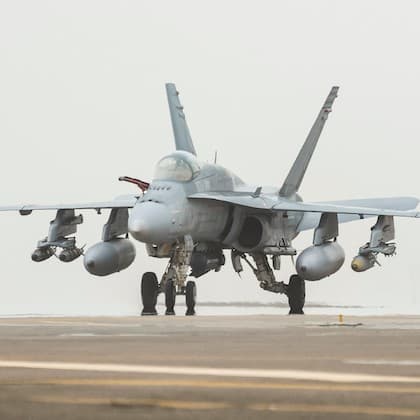 A revised Classic Hornet Sustainment Support contract, revolving around the maintenance of 71 aircraft and valued at approximately $145 million, will see Boeing Defence Australia move beyond the provision of deeper maintenance services to also become the platform's Weapon System Integrator, coordinating logistics, engineering and maintenance services.
Boeing Defence Australia vice president and managing director Darren Edwards said that, as the Original Equipment Manufacturer, the company will work closely with existing Commonwealth and industry partners to deliver optimal sustainment support services across all aspects of the Classic Hornet platform, which number 71 in the RAAF fleet.
"The Classic Hornet fleet is an integral part of Australia's air combat capability and the Boeing Defence Australia team will play a critical role in maximizing aircraft availability," Edwards said.
Head of Aerospace Systems Division Air Vice-Marshal Catherine Roberts said that this expanded commercial arrangement will ensure Australia's Classic Hornet Air Combat Capability until December 2021.
Minister for Defence Industry Christopher Pyne said the revised arrangement will restructure Classic Hornet aircraft support to align with the First Principles Review outcomes, allowing Defence to redirect resources to transition support to newer capabilities, like the F-35A JSF and EA-18G Growler.
Queensland SME Milspec Services announced on 31 July that it had signed a comprehensive teaming agreement with Associated Aircraft Manufacturing and Sales (AAMSI) of Fort Lauderdale, Florida. AAMSI are a Boeing approved, licensed manufacturer for F-18 and CH-47 platforms.  
Milspec director Steve Byrne said the agreement brings together two strong companies in sales, logistics support, repair and overhaul, and manufacturing that have been working with the ADF for more than a combined 50 years. By working together he said the support for RAAF and Army platforms such as the Classic Hornets and CH47F Chinooks would improve without adding any extra costs to the Commonwealth.
"Milspec Services & AAMSI are both looking forward to supporting all platforms of the Australia Defence Force directly and through the Defence Contracted customers," he said.
"This partnership shows the commitment of AAMSI and Milspec Services to provide long term support of the F-18 and CH47 in our region by bringing together the leading Boeing approved component manufacturer and Australia's leading defence supplier in a deal that brings no extra costs to the Commonwealth but ensures ongoing support to these platforms."