AIRCONDITIONING GIANT OPENS 5-STAR HEADQUARTERS IN SYDNEY'S WEST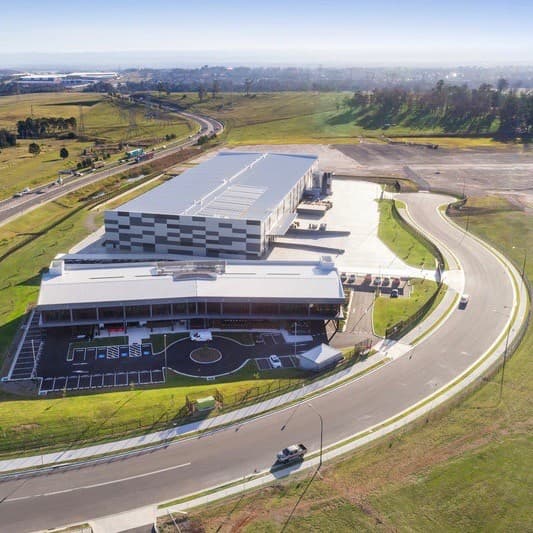 Fujitsu General Australia has officially opened its new 5-star Green Star energy rated head office, service centre and distribution warehouse in the western Sydney suburb of Eastern Creek. The 11,093m2 state-of-the-art building houses more than 80 head office and service staff, and an 8500m2 warehouse.
"I'm very excited to officially open the new headquarters for Fujitsu General Australia," says Philip Perham, Managing Director Fujitsu General Australia and New Zealand. "The new offices will improve operation and distribution efficiencies nationally, create local employment opportunities and pave the way for Fujitsu General's next stage of growth in the air conditioning market."
When Fujitsu General relocated to Eastern Creek in 2009, it was the first global brand to base its Australian head office in the area.
"Fujitsu General held a similar official opening, ten years ago, 700 metres away," Perham continues. "Relocating to the new premises in such a short space of time, reflects the business growth Fujitsu General has enjoyed over the last decade, thanks to the hard work of our exceptional teams nationally.
"Our new headquarters is designed from the ground up to deliver a work environment to meet Fujitsu General's needs as an organisation for the next 20 years and beyond, both functionally and, most importantly, culturally."
The new headquarters has a building design that enables Fujitsu General to be energy efficient and helps minimise its environmental footprint through the inclusion of timber and modern materials, as well as plants with a reticulating irrigation system.
It features an open-plan office with natural light throughout, sit/stand desks, collaborative working areas to encourage innovation and development, an indoor kitchen and outdoor lunch and barbecue facilities, an on-site gymnasium, well-being spaces and fun zone, a covered car parking for all staff and an abundance of outdoor space.
Fujitsu General Australia
1300 882 201
www.fujitsugeneral.com.au