AIR SUSPENSION KITS HELP KEEP UTES ON THE LEVEL
06-12-2017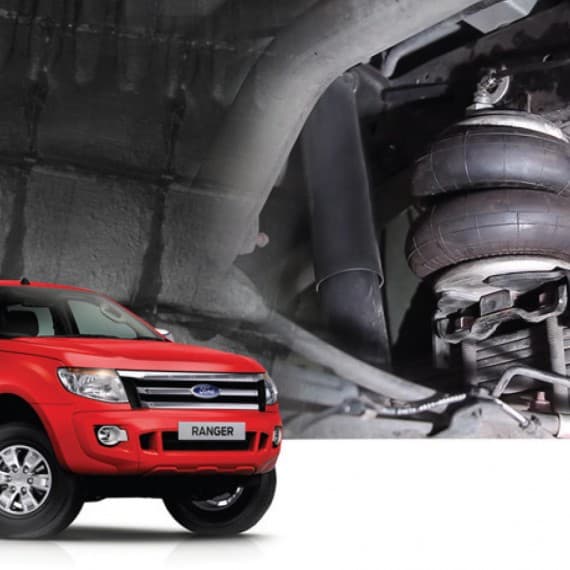 A growing range of versatile utility vehicles popular throughout Australia can benefit from Airbag Man's rear leaf spring air helper kits for safer load carrying, towing, braking and vehicle stability.
These workhorse single and dual-cab types often double as worksite warrior and weekend wanderers, carrying and towing loads as diverse as tanks, tradesmen's kit, building materials during the week, then caravans and boats over the weekends or holidays, particularly at this time of the year.
An example of the versatile ute breed is the Ford Ranger line-up, for which air suspension kits have specifically engineered for both 2WD and 4WD models by Airbag Man, featuring heavy duty Firestone airbags located between the vehicle's chassis and the axle/leaf spring.
Airbag Man products are distributed throughout NSW by All Air Suspension, which can provide Airbag Man contacts for all states and territories.
The airbags used in the Airbag Man kits are used for front-to-rear and side-to-side levelling control of a vehicle. They enable it to "level up" when carrying heavy, uneven loads and when towing trailers, caravans and boats. Users can adjust the airbags for varying loads and road conditions by simply inflating or deflating them, just like inflating or deflating a tyre. Airbag Man also offers a wide range of airbag inflation options.
These durable Firestone air springs – identical in construction to the rugged but supremely smooth riding Firestone air springs used in semi-trailer suspensions - allow users to maintain correct vehicle ride height under varying conditions and diverse road surfaces, with enhanced steering and braking stability as a result. There is also less wear and tear on the vehicle from twisting and flexing under load.
"By installing Airbag Man Suspension on utes such as the Ford Ranger, users can take advantage of a host of features and benefits," says All Air Suspension's General Manager, James Maslin. These include: adjustable levelling control; eliminating spring sag; promoting safer load carrying, better braking, improved steering and handling; stabilising of body roll; prevention of bottoming out; excellent ride quality; reduced tyre wear and lower maintenance costs.
"The kits have benefits when the vehicle is loaded or empty, towing or not towing, because the air pressure takes the strain off existing metal springs, preventing sagging and helping them to last longer," says Maslin.
All Air Suspension
02 8877 5577
www.allair.com.au