Published 18-06-2020
| Article appears in June 2020 Issue
AIR SPRINGS BOUNCES BACK DURING PANDEMIC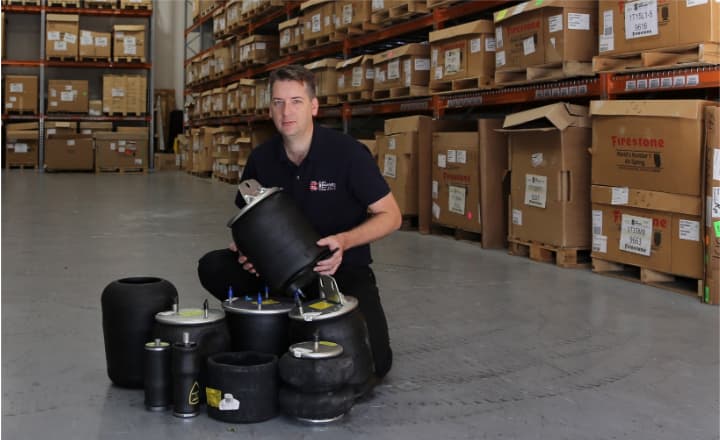 Strong investment by Australia's national distributor of the world's top selling air springs, Air Springs Supply, is paying off for its customers.
Food, beverage and agribusiness processors have secured continuity of supply of Firestone and Contitech actuators and isolators during the COVID-19 pandemic thanks to canny decision making by Air Springs Supply.
The company has remained open for business throughout the crisis in order to supply manufacturers and processors, and to respond to demand through its national distribution network.
OEM and top-quality replacement components are still readily available from Air Springs Supply, allowing clients to avoid downtime from worn parts and deliver outstanding proven service over millions of cycles.
"As some manufacturers run their machinery 24/7 to meet demand, we have ensured continuity of supply through bolstered inventories," says Air Springs Supply's national sales and marketing manager James Maslin.
The search for clean, hygienic and reliable isolator replacements has ramped up during the pandemic as operators focus on cost-efficient maintenance and actuator replacements for the wave of fully built OEM equipment imported into Australia in recent years.
"Our expanded warehousing within our national headquarters – twice the size of our previous facility – has enabled us to build particularly strong inventory not only for machinery OEM parts, but also for replacement parts for which there is now a growing demand," Maslin says.
"These quality OEM replacement air springs are identical to air springs supplied with fully imported machinery in which actuator isolator components will ultimately need replacing under heavy production demands."
Air Springs Supply's Contitech and Firestone (the world's largest supplier of air springs) lines include Firestone's inflatable Airmount isolators and Airstroke actuators, which are used worldwide in vibrating, conveyor and processing equipment.
Firestone and Contitech's top quality air springs can easily cross over from Goodyear, Rexroth, Norgren and similar components incorporated globally by OEM manufacturers.
According to Maslin, both types of rubber spring offer silent operation and very high isolation efficiencies.
Air Springs Supply's pneumatic actuators and isolators are also ideal, maintenance-free replacements for ageing metal coil springs. They don't require lubrication or upkeep and won't suffer crippling permanent compression like metal springs.
"Companies using fast processing and conveying equipment are driven by the twin imperatives of having to work equipment hard to maintain production volumes, while simultaneously ensuring that nothing breaks down to interrupt cash flow," Maslin says.
The robustly engineered rubber-and-fabric Marsh Mellow isolator springs are another maintenance-free isolator alternative. Manufactured by Firestone, the Marsh Mellow is in use worldwide in applications such as shaker screens, crushing equipment, vibrating bins, conveyors and other equipment subject to vibration.
The cylindrical Marsh Mellow isolator springs are constructed of a solid rubber core with a hollow centre and an outer cover of fabric-reinforced rubber.
Rubber actuators and isolators meet the post-COVID need for no-maintenance operation, reducing the need for human contact as well as frequent washdown without deterioration.
Air Springs Supply Pty Ltd
02 9807 4077
www.airsprings.com.au