Air Liquide proves a game changer in Additive Manufacturing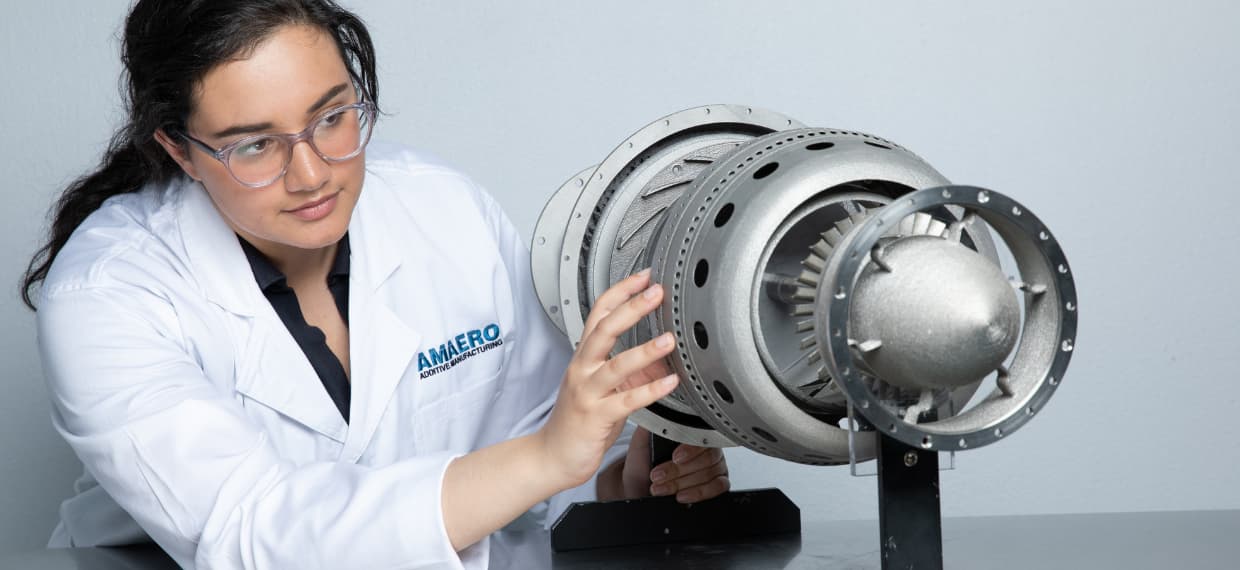 With an eye on delivering long-term performance with a strong commitment to climate change and energy transition, Air Liquide recognises that the dedication and inventiveness of its people can unlock the potential of accelerating technologies such as Additive Manufacturing.
Additive Manufacturing (AM), also called 3D printing, is gaining momentum as it expands from prototyping and small volume runs to serial production. Metal AM is a suite of different technologies with a wide range of applications, but all sharing the need for inert gas.
Gases are an important part of the technology for additive manufacturing and are integral to processes such as powder atomisation that make the raw material feedstock employed in many metal AM processes. Gas is needed for powder making to produce the fine powders that are employed in laser and electron beam powder bed fusion processes to make parts such as medical implants.
In the powder atomisation process, material is melted and as the molten liquid metal falls into a chamber, high pressure gas – generally argon or nitrogen – is introduced to break the molten liquid into fine droplets which cool to form fine powder, similar in size to very fine beach sand.
There are, however, certain characteristics the powder must possess to be suitable for the AM process. It is important that metallic powder be spherical and have high flowability to feed properly into the 3D printing machine, regardless of the process. Spherical powder particles with high flowability are also critical for powder bed processes where a re-coater rolls over the powder to generate a uniform thickness. The gas atomising method is one of the preferred metal powder manufacturing methods due to its ability to produce spherical, high-density metallic powder for.
Gas is used in the 3D printing process for metals and for plastics such as Nylons. Argon or nitrogen gas is required to provide an inert atmosphere to keep the parts being produced from picking up oxygen which will degrade the properties, and to maintain an inert atmosphere to keep the metal powders from igniting.
After parts have been printed, a thermal treatment such as Hot Isostatic Pressing (HIP) may be performed to optimise the post-production properties. This is necessary as 3D printed parts will typically have some residual porosity. That is, they are not 100% dense. Aerospace, medical and other critical applications require the removal of internal porosity, which necessitates HIP processing. This involves parts being loaded into a pressure tight container where they are heated, with high pressure gas such as argon or nitrogen used to transfer the heat and pressure to the part. Over time, this will consolidate the parts to 100% density.
Pressures up to 200MPa are possible with HIP employing gas. The company performing the 3D printing may do this step in-house or contract to an external service provider.
Binder jet technology is also a powder-based technology. Unlike laser and electron beam processes where the material is melted, in this instance a liquid binding agent is deposited onto powder particles to hold the particles together. This process is repeated in a powder bed until the part build is completed, after which the binder is removed, and the parts are heated in a furnace to sinter the powder particles together to form a strong functional part.
Air Liquide has developed a 3D Heat Mix gas specifically suited for sintering material produced by binder jet technology. This technology is receiving attention due to its potential to enable large volume metal AM production such as used in automotive applications.
Air Liquide already supports many facilities for gas atomisation in Europe, North America and Japan, and is introducing its technology to Australia.
Partnering with additive manufacturing company Amaero International – that specialises in metal additive manufacturing for the defense, aerospace and tooling sectors –  Air Liquide is providing the safe and reliable gas supply, and the ability to supply high purity argon to meet the requirements of the powder atomisation facility.
The 120 tonne-per annum titanium alloy atomisation powder manufacturing facility will produce aerospace and medical grade titanium powders used in additive manufacturing. Amaero's stringent requirements rely on Air Liquide's reputation for safe and reliable gas supply, and the ability to supply high purity argon to meet the requirements of the demanding applications Amaero is pursuing, making Air Liquide and Amaero ideal partners to push the boundaries of AM in Australia.