AIR-DRIVEN POWER UNITS ARE IDEAL FOR WORKHOLDING TASKS
01-03-2018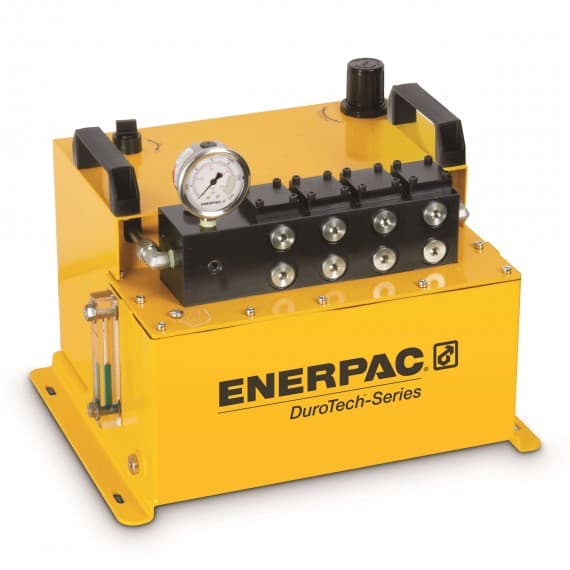 Enerpac DuroTech Series air-driven power units promise enhanced durability and flexibility in high-cycle industrial applications and workholding tasks, including production automation.
The DuroTech low-pressure power units, which use air pressure between 90 and 110psi (6.2–7.6bar), incorporate a number of features designed to extend product life and ease of maintenance.
"One key feature of this product is the reciprocating, dual ram piston pump. Every time the piston moves it creates flow, meaning less reciprocating motion compared with single ram systems, which leads to more flow and a longer life," says Darryl Lange, National Sales Manager, Enerpac Australia and New Zealand.
"Additionally, DuroTech pumps are fully serviceable, require no air lubrication, run cool and produce reduced noise levels, making them ideal pumps for workholding tasks," says Lange.
Shop air is connected to the built-in pressure regulator where the operator can adjust the air pressure, in turn setting the maximum hydraulic oil pressure. The air is ported through a built-in air shutoff valve to the air pump. With the air shut-off valve open, the pump automatically turns on and off to obtain and then maintain the customer selected hydraulic pressure.
Each DuroTech pump features a 6.8 litre all metal reservoir with easy-access drain plug, with a heavy-duty construction, including steel reservoir and protective steel shroud.
Enerpac Australia
02 8717 7200
www.enerpac.com.au