AIR CONDITIONERS PROTECT ELECTRONICS OUTDOORS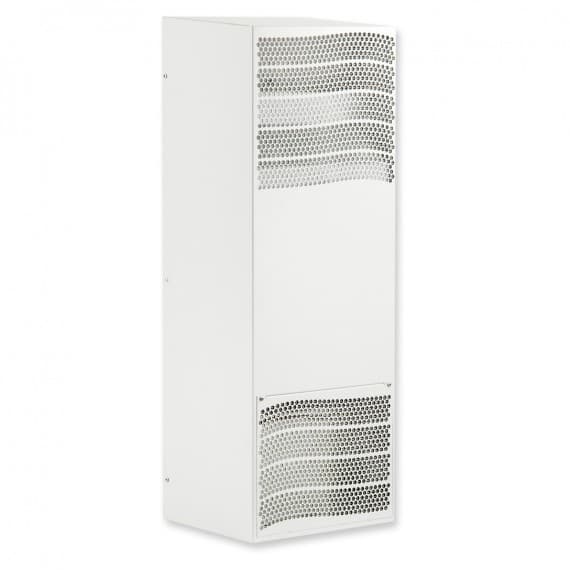 Outdoor environments can be harsh in Australia. To combat this, the Seifert Outdoor series of precision air conditioners are designed provide efficient cooling for enclosure equipment. The external mounting units offer cooling capacities from 290W up to 6kW, and run from single-phase AC supplies of 120 and 230V, and from three-phase 400V supplies.
Available in Australia, the German engineered and European manufactured Seifert Outdoor units are available in mild steel, powder coated to RAL7035 as standard and come with an IP56 protection rating (small objects, dust and water ingress). Stainless-steel units are available in either 304 or 316 (marine grade), offering protection up to Nema Type 4x (small objects, dust, water ingress, and are anti-corrosive). These features make for an ideal, minimal maintenance system while offering peak performance.
An adjustable user interface with display is located on the rear. This provides limited performance feedback of the unit and allows for temperature and alarm set adjustment. Units are factory set at +35°C as standard. All units are provided with a built-in condensate evaporation system, providing additional peace of mind.
In operation the unit, fitted with a sensor, constantly monitors the temperature of the enclosure. Depending on the heat load, the compressor and the ambient (external) air fan switch on and off. The internal fan operates continuously to maintain air circulation and an evenly distributed temperature throughout the enclosure.
In order to help users to specify the correct unit for application Seifert has developed an online "Cal-Cool-Lator". Stepping through a series of questions, the program assists in identifying the thermal loading of the electronics in any given enclosure, it then calculates the appropriate cooling capacity required, and finally nominates a suitable cooling unit.
Seifert Systems Australia carries a comprehensive range of Outdoor models in mild steel and stainless steel in stock. The company also stocks a large selection of spare parts to support users across Australia. These include compressors, motherboards, and internal and external fans.
Seifert Systems Australia
03 9801 1906
www.seifertsystems.com.au