| Article appears in November 2019 Issue
AIR CONDITIONERS BEAT THE HEAT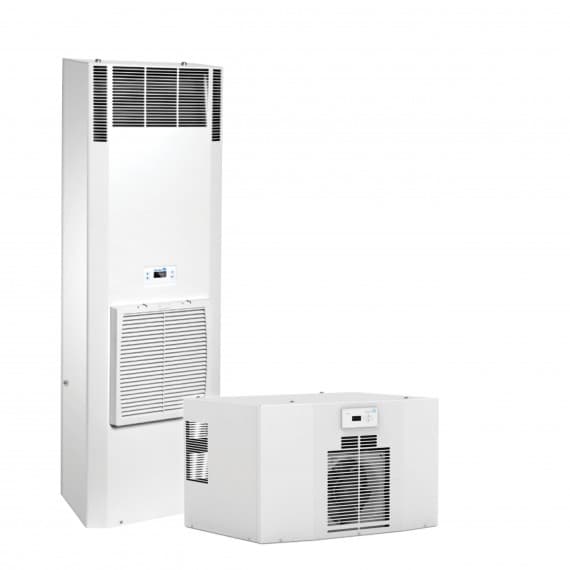 Enclosures are designed to keep equipment inside working, shielded from the environmental effects of rain, humidity, ambient temperatures, and sometimes acidic chemicals such as salt or other corrosive substances found in processing plants. However, the consequence of containing heat sources is high internal temperatures and hot spots due to the heat load, solar radiation, and enclosure size.
It's well known that excessive temperature affects the life and reliability of electrical equipment inside. Balancing the cooling ability is typically a trade-off with the enclosure IP rating and cost of cooling.
Pfannenberg's 60-year heritage in industrial cooling has produced a reliable range of solutions to perform in high IP environments while focusing on efficiency and sensitivity for effective cooling to temperature sensitive equipment.
Filter fans are inexpensive, quick to install and easy to maintain, but they may not provide the cooling needed to maintain equipment below ambient temperature or remove water molecules. Applications near the ocean for example would be a poor choice.
On the other hand when an air conditioner is fitted to an industrial cabinet, the internal air space is isolated from outdoor elements. Interior air is blown across cold fins, making it an effective all-in-one outdoor electrical enclosure cooling solution: notably in terms of a high IP rating of NEMA 4/4X and the ability to eliminate cabinet hot spots and cooling below ambient air temperatures.
However not all air-conditioners are the same. Pfannenberg's range of DTS and DTT cooling units feature flexible supply voltage options, robust slim tool-less designs, and just happen to be among the most efficient on the market, reducing energy consumption by up to 43%.
The DTS and DTT systems are specially designed for single-handed installation in less than 2 minutes. They can be ordered as side- or top-mounted machines with power ranging from 300W to 6kW.
Both series are constructed from powder-coated or optional stainless steel, and epoxy coating is provided on all exposed copper tubing to ensure environmental compatibility and feature active condensation management to eliminate water drain off. Both series are ideal for applications such as mining, chemical processing plants, food and beverage, or environments with washdown or high dust/debris areas.
Control Logic is currently offering Industry Update readers never-to-be-repeated prices on selected Pfannenberg DTS and DTT cooling units for a limited time. Offer ends Monday 16th December while stocks last.
Control Logic
1800 557 705
controllogic.com.au/beattheheat