Aim high with Bendi forklifts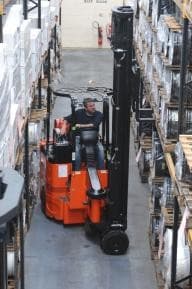 Space saver … Bendi Narrow Aisle Forklift
In the 1990s, most warehousing operations used a combination of equipment – traditionally a counterbalance forklift for outside work, unloading and loading road transport and a reach truck inside the warehouse for warehousing pallets. 
This combination is still used in many warehousing operations today but it is an expensive option. 
Now there is a practical alternative – the Bendi Narrow Aisle Articulating Forklift – new machinery that has changed the face of warehousing.  
Bendi is easy to operate and requires no guidance, no bottom beams and operates indoors and out.
It can stack the standard Australian pallet in aisles as narrow as 1750mm rack to rack and can lift up to 12.5m.
Already more than 10,000 Bendi units have been sold worldwide.
Call Bendi Australia for a free warehouse assessment.
Bendi Articulating Forklift will save you time, space and money. 
Bendi Australia Pty Ltd
Ph. 1300 462 363