AGVs THE SOLUTION FOR FREIGHT WAREHOUSE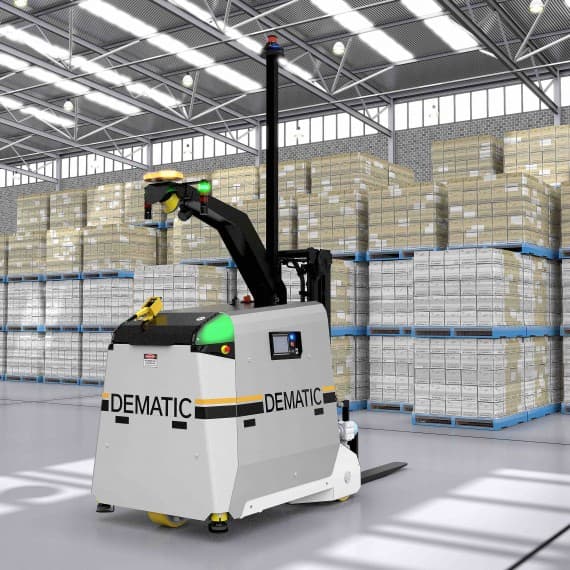 Dematic automated guided vehicles (AGVs) will be installed in the GTS Freight Group's new warehouse in Mildura, northern Victoria, in mid-2019.
GTS is a privately owned full-service logistics company based in Mildura, which operates a nation-wide fleet of over 150 prime movers and 450 trailers. Due to ongoing growth, it is constructing a new corporate headquarters and depot, including a 10,000m2 warehouse and parking for 60 trailers, adjacent to its existing facility.
GTS selected a turnkey system from Dematic to manage its block-stacked full-pallet warehouse. The system comprises two counterbalance vehicles utilising QR code navigation within block-stack lanes and Dematic's warehouse control software and paperless warehouse management system.
"We wanted an efficient and cost-effective warehousing solution that would allow for continued growth and expansion," says GTS Managing Director Damien Matthews. "We have been a long-time customer of Dematic and the turnkey capability was a big plus. Dematic was selected as they have proven to be a continual performer with years of background history and they designed these AGVs to perfectly meet our warehouse needs."
The vehicles have been designed to work in a specific area, receiving stock and putting away and picking full pallets, while part picking and all warehouse housekeeping are performed manually. They have been designed for GTS with a combination of laser guidance and QR code navigation. The QR codes allow for more accurate navigation within high-block-stacked warehouses, allowing the vehicles to operate in high-density storage.
"We are implementing two AGV CB-1200-55-S units, with a height of 6 metres and a lifting capacity of 1200kg," says Dematic Southern Regional Manager AGV Greg Carrington. "The efficiencies that the AGVs will provide include the ability to continually work after hours and fit the design of the warehouse to help keep those efficiencies at an optimum."
One of the key benefits of installing the AGVs in the new warehouse is the ability to perform other tasks that need attending to, including stock maintenance and data entry, at the same time that the vehicles are performing the picking tasks.
Dematic
02 9486 5555
www.dematic.com.au