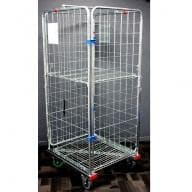 The flexibility of roll cages has seen them become a preferred option to move and store products like commercial laundry, dry grocery lines and more. 
New designs include double (opposing) full height doors together with bottom and centre shelves that fold up out of the way to allow the cages to nest together saving valuable room when the cages are not in use.
Cages are assembled with colour coded parts and 2 x swivel/2 x fixed castors helping staff to quickly identify the end to manoeuvre the cage from and making steering simple and effective. 
The castors incorporate very durable "sandwich" type wheels that have abrasion and impact resistant nylon treads with a cushioning layer under the tread to reduce noise and vibration and to absorb impacts. 
Cages with the sandwich wheels will withstand being transported by truck between locations as an easy way to load, move and unload products with minimal delay.
QHDC Australia Pty Ltd
Ph. 07 5593 4718