AEROSPACE EXPANSION OPEN FOR BUSINESS
30-01-2018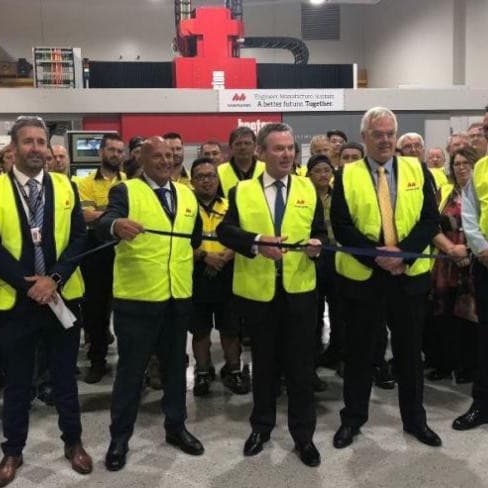 Minister Pyne opening the Marand Precision Engineering facility.
Defence Industry Minister Christopher Pyne opened the new Marand Precision Engineering facility in Moorabbin, which is supported by a Department of Defence New Air Combat Capability Industry Support Programme grant.
Minister Pyne said Marand, which recently finalised its expansion programme to implement a fully integrated F-35A Vertical Tail manufacturing capability in Australia, will create an additional 44 full-time positions for Marand Precision Engineering, with flow on effects across the supply chain.
The RAAF said that the Marand facility has been expanded through the installation of a precision milling machine, enabling the company to establish a "fully integrated" F-35A vertical tail manufacturing capability.
The Moorabbin facility, which was partly funded through a grant from Defence's New Air Combat Capability Industry Support Programme, will support 44 new production jobs and will manufacture vertical tail for the F-35 programme.
"Marand is now an established supplier of F-35A Vertical Tails, with Australian-produced tails on the aircraft of several F-35 Partner Nations," Minister Pyne said in a statement.
"Expected to generate a total of more than $1 billion in revenue over 20 years, Marand is a great example of the success Australian industry is experiencing through the global F-35 Programme.
Marand signed a long-term agreement with BAE Systems UK in 2011 for the manufacture of Vertical Tails for the international conventional take-off and landing variant of the F-35, and is continuing to produce F-35A tails on contract.