Aerosol storage no longer an issue
31-08-2010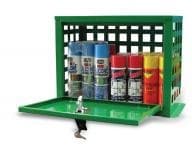 Bulk aerosol storage in industrial stores and production facilities is no longer an issue with the new range of Storemasta Aerosol Cabinets.
Storage volumes often exceed the maximum amount allowed under the "minor" storage classification and therefore require storage in a properly approved manner.
The Storemasta Aerosol cabinets, from Priority Supplies, are specially designed for the correct and safe storage of up to 432 cans over the six different cabinet sizes available.
Distinguished by their green powder-coat finish and with signage to Australian Standards these cabinets can be bolted down and locked for added security.
These innovative cabinets are ideally suited to maintenance workshops and stores applications in any industrial environment.
Storemasta also manufacture a wide range of properly approved gas cylinder storage solutions to cater for all regular cylinder sizes and quantities.
Priority Supplies 
Ph: 1800 245 578