Advatek invests in future growth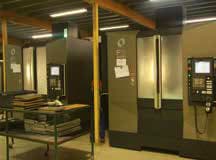 Kevin Edmonds, Production Manager at Advatek recently invested in two Makino F5 machines from family owned Australian company Headland with surprising results …
Nearly eight months ago, Advatek installed two new Makino F5 machines as part of their workforce, replacing two older machines more than 20 years in age.
"It was nice to get in some new machines that were easy to operate, offer better tool life and a new control panel," says Mr Edmonds.
"One of the great things was that we were awarded the Clean Energy Grant from the Government so it certainly helped when financing the machines."
Mr Edmonds worked closely with the Headland team who managed the Clean Energy Grant from start to finish.
"It was great to have someone to manage this for us that were experienced and knew what details to add to get it over the line," Mr Edmonds said.
With the new machines Advatek has achieved an increase in production of 48.12 percent, based on how long it takes to machine the same part.
"We have also seen a great reduction in energy consumption," he said.
Mr Edmonds said the Advatek shop has previously consisted mainly of Makino machines, so it was at the top of the company's considerations list.