Advantages of tecnomagnete lifting magnets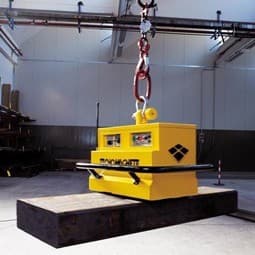 In the past, electromagnets used for heavy steel lifting applications have required large amounts of energy to operate.
Also, large battery back-up systems were needed to retain the load if a power outage occurred during a lift.
These back-up systems were cumbersome, heavy, occupied valuable space, and were another item requiring maintenance and attention.
Now permanent-electro magnets, with no need for battery back-ups, are replacing older lifting magnet systems.
Permanent-electro lifting magnets rely on electric power only momentarily to energise or de-energise permanent magnet cores.
The lifting and load-carrying is done by permanent magnets which support a load indefinitely until intentional de-energising of the permanent magnets. The de-energise action can only occur after the load is at rest.
Distributed in Australia and NZ by Serpent & Dove – Applied Magnetics Pty Ltd, tecnomagnete lifting magnets are available to suit steel plates, slabs, billets, tubes and coils.
Serpent & Dove Pty Ltd
Ph: 02 9971 7577