ADVANCED SCROLL TECHNOLOGY DELIVERS OUTSTANDING EFFICIENCY
28-07-2015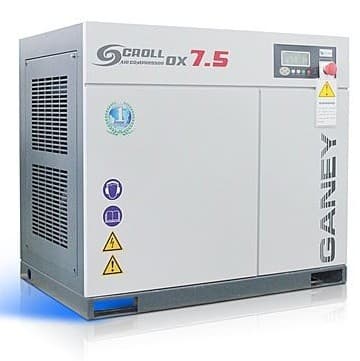 Piston type reciprocating compressors were the accepted workhorse for small to medium business for many years.
But today's demands for lower energy use with higher operating efficiencies and a focus on environmental issues in the workplace have virtually rendered the piston type obsolete.
Southern Cross Compressors has recently introduced the Ganey range of advanced lubricated Scroll technology compressors offering exceptional energy efficiency with minimal moving parts.
These compact compressors are renowned for ultra smooth, vibration free operation and have proved to be more reliable than piston types.
These compact air compressors are ideal where low noise is a beneficial factor.
The dynamically balanced, non-contact orbital scroll results in ultra quiet performance.
Unlike piston type compressors, the orbiting scroll compressor has minimised vibration.
The compact design provides a much smaller footprint for equivalent capacities, which means less installation space.
With the added benefit of direct drive (no drive belts to replace), continuous load capability and an integral aftercooler to reduce moisture carry over, the Ganey Scroll range delivers a reliable compressed air supply with lower energy bills and greatly reduced maintenance costs.
Advanced control and monitoring provides simple, positive operation with built-in temperature and overload protection.
Southern Cross Compressors
Ph: 1300 098 901