ADVANCED PLASTIC LINING FOR BULK HANDLING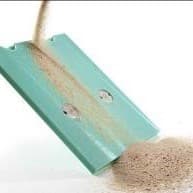 A new addition to one of the world's leading ranges of tough but light, high-flow plastic liners is being introduced to Australia by Cut To Size Plastics for uses such as mining, bulk handling, automation, and road, rail and port loading facilities.
The low-friction Wefapress Flex Line ultra-high molecular weight polyethylene (UHMWPE) range is typically eight times lighter than comparable steel liners used to curtail friction, wear and material flow challenges in applications requiring no moisture absorption, outstanding chemical resistance and corrosion prevention.
This clean, easily handled product offers excellent impact resistance and has been particularly successful internationally in heavy-duty mining and transport applications, says Cut To Size Managing Director Laurie Green.
"Flex Line is an ultra-high molecular weight polyethylene that has been chemically modified to further optimise the material for high wear resistance and outstanding sliding properties," he says.
The dense, partly crosslinked UHMWPE, with a high 7-9.2 million g/mol molecular mass, can also be specified with anti-static and flame-retardant properties, enhancing its suitability for use in a number of potentially hazardous environments.
Cut To Size technical staff have received world-class training in uses of Flex Line and other Flex Cover ranges. They can draw on the company's engineering plastics experience of more than 40 years to advise which product is best for particular applications or as a replacement for metals that is easier to handle, fit and replace.
"The easy handling of this light and clean but extremely tough material enhances OH&S during installation and maintenance operations," says Green. "The speed with which the Flex Cover range can be installed and removed is also a major time-saving advantage in installation and maintenance practices, optimising uptime and reducing delays where crews are working within tight time frames."
Cut To Size Plastics
02 9681 0400
www.cuttosize.com.au