ADM RELEASES THE MICSIG TABLET OSCILLOSCOPE
24-10-2016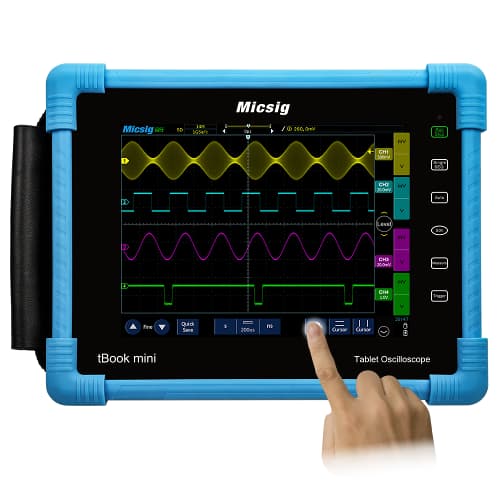 Very little has been changed to the design of Oscilloscopes from the 1980's, when digital oscilloscopes were introduced, which brought on one of the biggest revolutions for the system.
While this brought on new features, their complicated use has always made them tricker than their analogue counterparts.
Many still use the old design oscilloscopes, but with knobs and buttons taking up two thirds of the front panel they can be complex.
Today, engineers are demanding devices that are more intuitive to use. It seems a little odd that our mobile phones are more advanced that an oscilloscope.
Things have changed with the launch of Micsig's Tablet Oscilloscope.
The new Micsig Tablet Oscilloscope features a 10.1 high resolution 1024 x 600 touch screen display, which together with a simple and intuitive user interface delivers a more user friendly testing
experience.
Micsig has developed a user interface to the point where a touch screen is now practical to use on an oscilloscope.
The Micsig oscilloscope allows you to manipulate waveforms using the same gestures and controls available on you smart phone or tablet and also supports USB and mouse inputs, should you prefer a more traditional computer based method of operation.
Many oscilloscopes use a multi - layered menu system together with soft buttons to give access to a multitude of different functions. The trouble is that having to cycle through layers and layers of
menu options starts to get rather tedious and the operation of the oscilloscope becomes overcomplex.
With the Micsig Tablet Oscilloscope you can directly manipulate the data on the screen, rather than fiddle about with a bank of knobs and buttons.
The new Micsig Tablet Oscilloscope has removed the traditional knobs and buttons with software that acts in the same way.
ADM Instrument Engineering
1300 236 682