THE ADEPT WAY TO MANIPULATE HEAVY ITEMS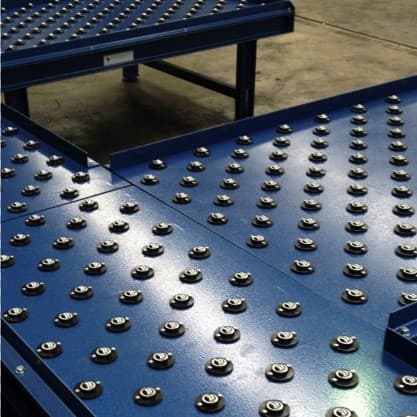 Adept Conveyor Technologies, a leading Australian designer and manufacturer of conveyor system solutions, has designed an intelligent way to manipulate heavy objects where access to or from multiple directions is required.
These ball transfer tables can be built in any width or length configuration for your application and in both mild steel and stainless steel materials.
Side guides and end stops can also be fitted to prevent the product being moved from falling off the ball transfer table.
The individual ball transfer units are rated from 25kg through to 125kg weight capacity per unit and come in steel, stainless steel or nylon balls.
They consist of a large load bearing ball which sits upon many smaller balls that are encapsulated in a semicircular cup. A seal can also be incorporated for dusty environments to reduce contamination.
By varying the pitch of the individual ball units the load capacity of the ball transfer tables can accommodate lightweight applications of boxed goods through to heavy duty applications where the movement of pallets, tooling or large flat products such as marble or stone is required.
Only minimal pushing or pulling forces are required to move bulky and heavy products along the ball transfer tables.
This particular product is useful where access to multiple directions is required such as tooling refurbishments or tooling size changes are required.
Also, changes of direction are easily completed without the need for costly and complicated powered solutions.
The ball transfer units are virtually maintenance free in terms of not requiring ongoing lubrication, as they are pre-lubricated from the factory, and only require periodic cleaning to maintain trouble free operation.
Adept Conveyor Technologies
Ph: 9771 4655