ADEPT AT MORE THAN JUST DRAINAGE
08-05-2017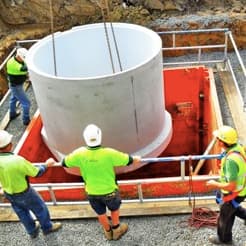 When dealing with heavy materials and equipment, a safe, respectful approach is paramount
Paul Daniel is the Health, Safety, Environment and Quality manager at Adept Drainage, a company that has a firm reputation for ensuring the safe and reliable operation of not only its completed projects, but its entire construction process.
Adept Drainage has managed many large-scale drainage projects, aiming for a zero-accident workplace record without compromising the quality of its built projects. The company manages everything from routine cleaning to emergency clearing and fixes.
Daniel is returning to Safety First and National Manufacturing week to talk about the magic bullet that makes sure he and his team get what they want, when they want, as safely as possible: rapport.
The only way to get "out of this world" numbers (like 1000 days without losing work time to injuries) is to establish and build a rapport between you and your employees. If they like you, and they understand you, people will willingly do exactly what you want.
You can't get people to do things if they don't like you, and it's as simple as that.
Daniel will talk about how to build powerful rapport and give examples and techniques that he has used to transform the safety numbers where-ever he goes.
Adept Drainage
03 9863 9530
www.adeptdrainage.com.au