ADEPT DIRECT'S CABLE HANDLING BREAKTHROUGH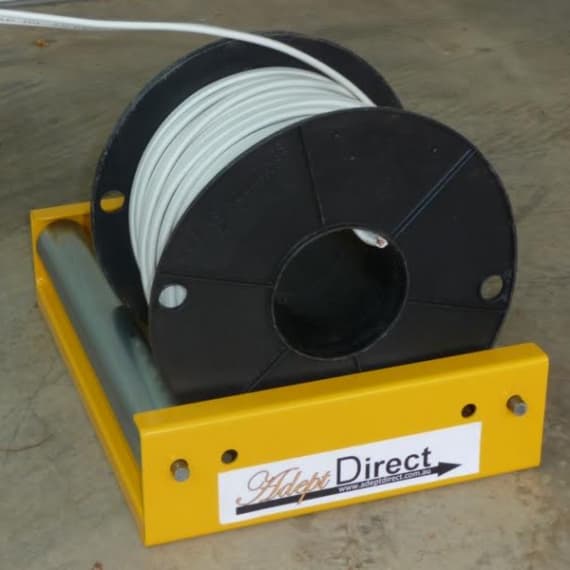 One of Australia's most forward thinking companies in cable handling and dispensing, have upgraded their Cable Reel Rollers to handle up to 200kg cable reels.
The Adept Direct 350mm Cable Drum Roller is a simple, yet brilliantly effective means of storing and unreeling cables and leads. The flanges of the plastic or timber cable drum rest on the galvanized steel rollers.
These free-wheeling rollers ensure that cable is paid out safely without tangling, or the drum rolling away.  The improved workplace safety of not having reels of cable rolling around on a building site or manufacturing area, goes without saying. 
These compact Cable Rollers are very versatile as the centres /spacing of the rollers can be changed from narrow setting through to medium or wide settings.
This means the Cable Roller can be used for dispensing small diameter telecommunications cable reels one day and electrical cable drums the next.
Adept Direct Cable Rollers are designed and made in Australia utilizing robotic welders and an advanced technology manufacturing system. The heavy duty rollers incorporate "sealed-for-life" bearings and the rigid steel frame is powdercoated high visibility, safety yellow. 
Adept Cable Rollers are low profile and compact which means they can be part of every electrician's or telecommunications technician's tool kit.
As with all Adept Direct tools and equipment, these Cable Rollers can be ordered online at www.adeptdirect.com.au for delivery Australia-wide.