ADELAIDE COMPANY TO PRODUCE CARBON NANOTUBES FOR X-RAYS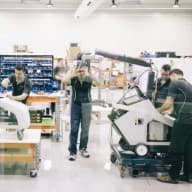 High-tech developer Micro-X will bring the design and manufacture of its next generation of carbon nanotube X-ray tubes to the Tonsley innovation district in the southern suburbs of Adelaide, in order to give it greater control over its operations.
Micro-X has achieved strong growth since the 2017 launch of its first mobile X-ray product, the DRX Revolution Nano, which is marketed by US company Carestream Health.
This year, Micro-X signed a $10 million deal with defence company Thales Group to develop mobile X-ray products for security purposes, and will collaborate on the global sales and support of Micro-X's counter-terrorism Mobile Backscatter Imager of Improvised Explosive Devices and an airport checkpoint security scanner.
The core of Micro-X's revolutionary technology platform uses an X-ray tube containing a carbon nanotube (CNT) electron emitter originally manufactured by American tech company XinRay. The tube is the world's first not to use heated-filament electron emission, which is the key to reducing size, weight, power and heat.
Micro-X took two years to develop its own proprietary CNT emitter and will become the second company capable of manufacturing CNT-based X-ray tubes globally.
In a statement to the Australian Stock Exchange this week, Micro-X said the main objective of its strategy is to reduce reliance on a third party vendor while achieving higher yield, increased commercial margins and improved reliability for customers.
"The strategic and operational importance of having established and proven our own carbon nanotube and X-ray tube technology in-house cannot be overstated," Micro-X Managing Director Peter Rowland says.
"We now have co-located with our product manufacturing in Adelaide, complete control of the technology, which will shape our destiny with our current and future products as we develop and take to market the innovative x-ray products which only this technology can permit.
"This new capability, together with the expansion in our business enabled by Thales's long-term investment, will create at least another 20 new high-technology engineering and manufacturing jobs at Micro-X in the next 18 months."
The new manufacturing process has been locked down and will take place adjacent to Micro-X's current facility. The Tonsley innovation district, on the site of a former Mitsubishi car manufacturing plant, is Australia's first innovation hub, bringing together advanced manufacturing companies, university STEM programs, renewable energy leaders and high-tech pacesetters.
As part of the $3 million project, Micro-X recruited a small team of world-leading experts in engineering chemistry and nanomaterials science. The team also works with the assistance of researchers from the University of Adelaide and Flinders University.
Micro-X has created its own proprietary intellectual property around both the new CNT emitter and the method of manufacture, with a new patent now filed.
The company says its first production tubes are performing above expectations and will be ready to be fitted to DRX Revolution Nano deliveries by Carestream following completion of a testing program expected to conclude before the end of September.
Carestream Health General Manager of X-ray Solutions Charlie Hicks says the advances Micro-X have made with the new X-ray tube design, in both the quality and potential lifetime, will be of great benefit to healthcare providers.
"As our sales of this new device grow, Micro-X is well positioned to quickly supply anticipated demand from customers," he says.
Micro-X
08 7099 3966
micro-x.com