ADELAIDE COMPANY TO DEVELOP GLOBAL SECURITY PRODUCTS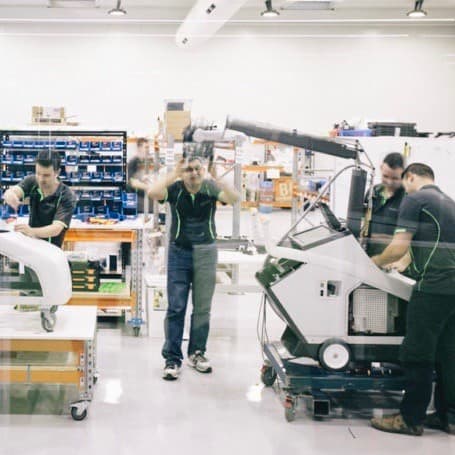 Under a new contract with global supplier of defence and security technology systems Thales, Adelaide-based company Micro-X will develop multiple image processing systems for defence and security applications.
Micro-X is based at the Tonsley Innovation District in Adelaide's southern suburbs and manufactures carbon nanotube X-ray systems that are portable and adaptable for multiple industries. Thales is a multinational company developing products and providing services for aerospace, defence, transportation and security technology markets.
Under a six-year convertible bond, Thales is investing $10 million in Micro-X to develop a selection of the company's products.
Micro-X Managing Director Peter Rowland says the deal is a key inflection point in Micro-X's development and changes its growth trajectory.
"The close, long term working relationship and collaboration agreed with Thales on technology, manufacturing, product development and sales activities positions us well to propel Micro-X's value creation quickly," he says.
Thales and Micro-X will collaborate on the global sales and support of Micro-X's counter-terrorism mobile backscatter imager of improvised explosive devices (IEDs). The technology scrutinises IEDs, which are commonly used overseas in roadside settings.
Design and development for the imager is already under way following positive feedback from US and Australian defence forces after a demonstration conducted at the Australian Defence Force's Counter-IED Task Force.
For the counter-terrorism product, Micro-X will offer direct sales to the US, the UK, Canada, Australia and New Zealand. Thales will sell the management buy-in product, manufactured in Adelaide, internationally.
Another product to be developed further is an airport security scanner. After working with the UK Department for Transport, Micro-X produced dual backscatter and transmission x-ray imaging technology that combines traditional and sophisticated X-ray imaging to provide a clear image of scanned luggage. Thales will use the technology under licence.
Micro-X recently unveiled a prototype of the scanner at the Future Airport Security Solutions industry showcase in London.
Micro-X and Thales will also design and manufacture a new range of ultra-miniature X-ray tubes, combining Micro-X's experience in carbon nanotube x-ray sources and Thales's experience in X-ray devices. The tubes will be designed in South Australia and manufactured in France.
Thales Vice President of Microwave and Imaging Sub-Systems Jean-Jacques Guittard says X-ray imaging offers the best practical and quantifiable benefits in the carbon nanotube market.
"From airport checkpoints to counter terrorism activities to future medical imaging devices, Thales and Micro-X are on the edge of a historically decisive moment. In addition to these high-tech synergies and as a major player in the digital domain, this partnership will give us a technological leap none else can offer," he says.
Micro-X
08 7099 3966
micro-x.com