ADELAIDE AEROSPCE STARTUP SEEKS TO LAUNCH IN THE USA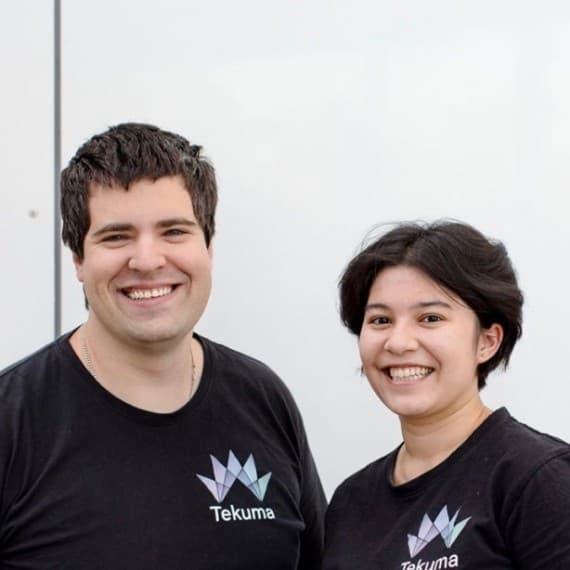 Tekuma's "techie" Michael Griffin and "hustler" Annette McClelland
Tekuma, an Adelaide-based aerospace startup, has developed a one-handed controller for drones and robots, and is heading to the USA to attract licensing partners and customers under an Australian Government program.
The company's "techie" Michael Griffin discovered a gap in the market while trying to fly a drone and control a camera at the same time, sparking a mission to build a more modern and functional controller.
The company's "hustler" Annette McClelland says that while dual joystick controllers have existed for more than 80 years, innovation in the field has stagnated. The addition of camera controls to a joystick controller has made drone operation unnecessarily cumbersome and difficult.
"Operators tend to take 12 to 18 months to feel competent in doing this or they tend to completely switch off movement mode and they just hover and then just control the camera," she says. "Or you have two operators, that's usually the primary solution. One person on the camera and one person on the drone and they work together. Michael was trying to do this on his own and he thought there must be another way so he decided to build one."
McClelland and Griffin started the company in Sydney three years ago and relocated to Adelaide last year to be part of the SA Government's inaugural Venture Catalyst Space incubator program.
Financed by the South Australian Government's $4 million Space Innovation Fund, the program is run by the University of South Australia's Innovation and Collaboration Centre with support from the French-based International Space University.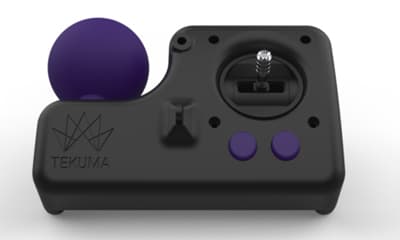 Now they are travelling to San Francisco as part of Landing Pads, an intensive 90-day residency helping tech companies take their products to a global market. 
Landing Pads is part of the Australian Government's National Innovation and Science Agenda. The first of five international offices opened in San Francisco in 2016 with subsequent launches in global tech innovation hot spots Shanghai, Tel Aviv, Berlin and Singapore.
More than 200 Australian businesses have been part of the accelerator program but Tekuma is only the second South Australian company to win a place, after software company Connexion Systems attended the program in January.
McClelland says they will use Landing Pad to examine how Tekuma can enter the defence industry in the US.
"That's one of the reasons we moved to South Australia, was to look at the defence market in particular," she says. "So being able to look at what that looks like in the US is one of our primary objectives."
While McClelland says that all of Tekuma's controllers so far have all been hand-made by Griffin, she hopes the time in the US will help the business grow and allow it to employ more staff.
"We've sold our first units and we scored our first licensing partner earlier this year so it looks like we'll be selling a whole lot more units soon," she says.
Tekuma
0419 800 996
tekuma.tech/