ADDITIVE MANUFACTURING HUB TO BOOST VICTORIAN INDUSTRY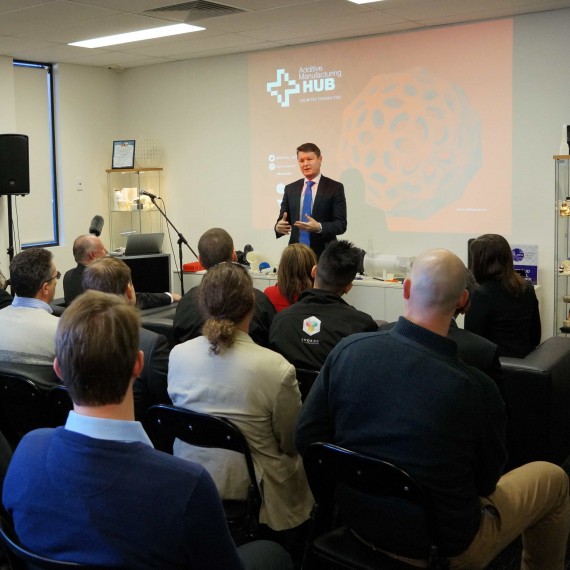 Victorian Minister for Industry & Employment Ben Carroll launches the AM Hub
AMTIL has teamed up with the Victorian Government to launch a new Additive Manufacturing Hub. The AM Hub was officially launched on the 3rd September at the headquarters of Objective 3D in Carrum Downs, in an event attended by Victorian Minister for Industry & Employment Ben Carroll and Sonya Kilkenny, the local member for Carrum.
The AM Hub will be managed by AMTIL, and supported by a $1.85 million grant from the Victorian Government.
"3D printing is a game changer for manufacturing, which is why we're backing the technology so more local companies can reap the benefits," said Minister Carroll. "This new Hub will help local manufacturers innovate, become more productive and excel in future industries."
A key activity within the AM Hub will be to address identified skill gaps within the industry, developing capability in areas such as business case analysis and design for manufacture through registered service providers. To deliver on this, a significant service offered to AM Hub Members will be the 'Build It Better' AM Hub Grants Programme.
These grants will provide assistance to companies that want to develop business cases for investment in AM technology, undertake design services or re-engineer existing products. Grants of up to $20,000 will be issued to access the expertise of a registered service provider. All grants must be matched with a minimum cash contribution of $1 for every $1 granted.
"AM technology is getting faster and faster, producing more robust production quality and strength components, and manufacturing them at faster and faster speeds," said Matt Minio, Managing Director of Objective 3D. "One of our biggest challenges is educating the market to advise them of the rapid rate of change in AM. If we don't, Australian businesses run the risk of being left behind."
"Additive manufacturing is having an impact on product development and manufacturing around the world," added AMTIL CEO Shane Infanti. "Parts produced by additive manufacturing are going into aircraft, race cars, home and office products, and human beings."
"We have come a long way since stereolithography was first patented in 1984. But we still have a long way to go to realise the opportunities that additive manufacturing has to offer. The AM Hub will play an important role in realising these opportunities for Victorian businesses," concluded Infanti.
Membership of the AM Hub is free for all AMTIL members (but not limited to AMTIL members).