Published 28-05-2020
| Article appears in June 2020 Issue
ACTU SLAMS NSW WAGE FREEZE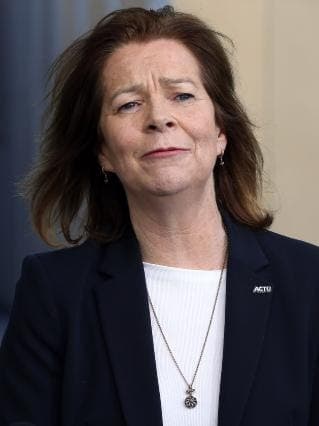 ACTU President Michele O'Neil. Picture: Gary Ramage
ACTU president Michele O'Neil has branded the NSW Government's public servant wage freeze "a terrible decision".
NSW Premier Gladys Berejiklian announced on Wednesday that 400,000 state public servants will miss out on a 2.5 per cent pay rise for the next 12 months. The move is expected to save taxpayers $3 billion.
Speaking to Sky News, Ms O'Neil said the decision is a slap in the face to the public sector.
"The decision really does fly in the face of the very amazing work the public sector in all states has done," she said.
"To think that health workers, nurses, firefighters, police, ambos and thousands of other workers are being thanked by getting a pay freeze is a terrible decision by the NSW Premier."
Ms O'Neil conceded the extra money would be put to good use on frontline services, but said it should not come "at the expense of taking money out of the pay packets of the very people who've got us through this crisis".
In her press conference, Ms Berejiklian said the decision, designed to keep state employees in jobs, wasn't made lightly.
"Whilst we are recovering from the health consequences of the pandemic we have yet to come to terms with the economic shock. Job security is essential on our path to recovery."
Industry Update believes that while workers have done a great job and absolutely do deserve recognition and a pay rise at some time in the future, now is not the time.
The fact is that the cost of living isn't going up during the COVID-19 pandemic. State and federal governments have been forced to spend a fortune to keep people employed as the economy has taken its hardest hit in decades. Unfortunately, we all have to feel some pain.
And feel it we have. This is the biggest upheaval of Australian society we've known in our lifetime. Despite the stimulus measures, hundreds of thousands have lost their jobs.
As a result of the Premier's decision, some fully employed people won't get a pay increase this year. Apples and oranges; like comparing a severed limb to a paper cut.
Industry Update condemns Ms O'Neil's ridiculous, misplaced outrage. IU publisher Scott Filby believes the ACTU president's comments are way out of touch with society expectations.
The Premier's announcement will keep jobs secure and provide the state with money that's best spent in any number of more suitable places.
During these toughest of times, these are things to appreciate, not castigate.