ActronAir unveils new energy saving inverter technology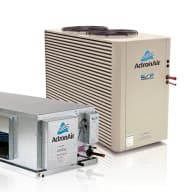 The ESP Platinum Series is the latest ducted air conditioning innovation from ActronAir.
The company claims it is the most advanced ducted air conditioner ever built in Australia and offers the lowest running costs in its class.
Designed in Australia, the key driving force was to optimise seasonal energy efficiency. Testing and energy modelling have shown that the ESP Platinum series uses up to 75 percent less electricity compared to conventional fixed speed systems and up to 50 percent compared to conventional inverter systems on the market. 
Based on cooling, that equates to a savings of up to $900 per annum.
Engineered with Tru-Inverter technology, ESP Platinum delivers improved comfort and performance. Tru-Inverter step-less technology reaches maximum capacity up to five times faster than conventional inverter technology.  
With a wider capacity range of 20-100 percent, it delivers more precise temperature control with a superior operating range of -15 to 50oC.
The Energy Smart Zoning feature utilises the latest Variable Fan technology to deliver intuitive airflow control.
It is also available with independent temperature control in up to eight zones for the ultimate in comfort.
Adding the new ActronConnect wireless control option will allow control of the air conditioner from an iPhone, iPod or iPad or just about anywhere internet connectivity is available.
The system is designed and manufactured in Australia and backed with ActronAir's technical support, after sales service and local spare parts.
ActronAir ESP Platinum is ideal for residential and commercial applications.