Actisafe soars to new heights with new scissor table
31-08-2010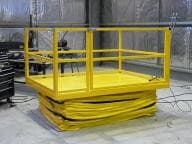 High safety … new heavy duty triple scissor lift table from Actisafe
Actisafe has unveiled a new heavy-duty triple scissor table for safe lifting of merchandise and work items.
The Defence Preferred Supplier has developed the new product in response to industry demand for a safe way to transport items vertically – specifically for picking and placing stock to and from high-level racking.
Operated by a hand-held remote control, the new triple scissor table can reach heights of up to 3m. 
Further, all parts of the season mechanics are fully enclosed by an expandable safety skirt to protect workers and visitors from the system hardware.
The scissor table also has safety rails all around and a safety lock on its gate to ensure it does not open during operation.
It is not designed as a people lift, but rather a safe way for a single operator to take goods to a designated height, or to retrieve goods from a certain height.
With the Actisafe triple scissor table, staff can work in complete safety, confident that nothing will fall from the table during operation.
Actisafe
Ph: 1300 852 397