Published 28-04-2020
| Article appears in April 2020 Issue
ACROMAG – NEW SFF EMBEDDED COMPUTER MATES COM EXPRESS TYPE 10 CPU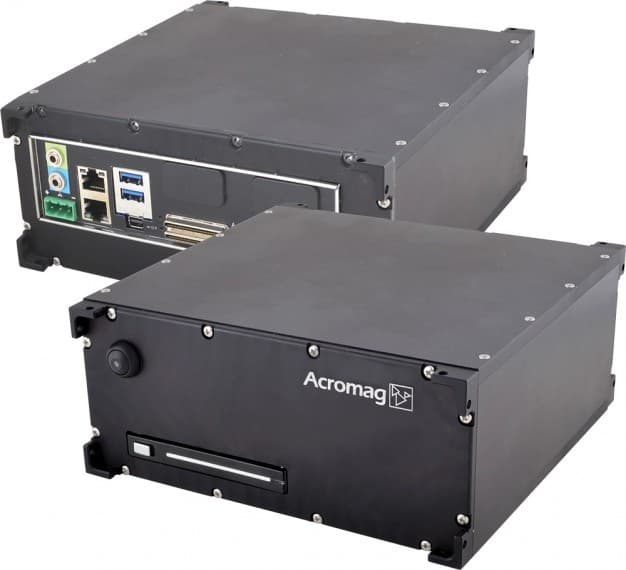 Acromag has introduced a new small form factor (SFF) computer system that's designed for data acquisition programs used in defence, industry and mobile-embedded computing systems.
The new SFF Embedded Computer Mates COM Express Type 10 CPU features four industrial I/O modules for signal processing, communication and control tasks.
The ARCX1100, which weighs just 2kg, is a compact and rugged unit. It's fanless, has a water-resistant cover, can withstand temperatures ranging from minus 40C to 71C, and is rugged enough to withstand 50g shock and 5g vibration.
Acromag's new, small form factor (SFF) embedded computer system has modular I/O for signal processing, communication, and control functions. The ARCX1100 is optimised for size, weight, power, and cost (SWaP-C) with a COM Express Type 10 CPU and four slots for Acromag's plug-in AcroPack I/O modules.
Overall size with an integrated removable SSD bay is just 19.3 x 19.3 x 8.2 cm. It is supported with an Intel Atom E3950 (Apollo Lake) processor and four AcroPack I/O modules installed.
Peripherals include two RJ45 gigabit Ethernet, two USB 3.0, two RS232, mini DisplayPort, and audio ports, plus M.2 and SATA data storage connectors.
Four 68-pin VHDCI connectors securely route field I/O to the AcroPack modules without any loose internal cables to interface a mix of analogy, digital, serial, FPGA, avionics, and other I/O signals.
The ARCX1100 is ideal for test & measurement, data acquisition and control, communication, avionics, simulation, and signal processing applications.
More than 25 AcroPack modules are available to perform A/D, D/A, discrete I/O, RS232/485, MIL-STD-1553, CAN bus, Gigabit Ethernet, and other functions.
Third-party mPCIe modules are supported for use in the AcroPack slots. Power is sourced from a 10-36V DC supply.
A water-resistant connector cover is also available to seal and secure the cabling.
Compact, rugged, and extremely versatile, the ARCX1100 provides high-performance embedded computing in a simple, affordable package.
Acromag is represented in Australia by Metromatics.