ACQUISITION EXPANDS PLASTICS PRODUCT MANUFACTURE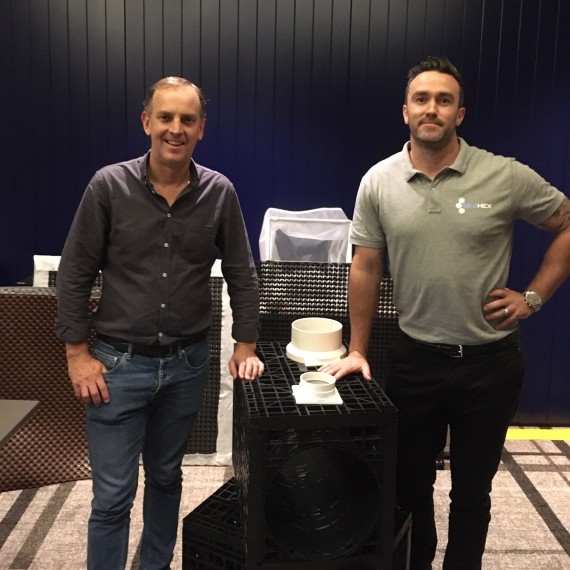 (L to R) Gerard Jorna and Matthew Holloway
Sydney-based injection moulder A Plus Plastics has acquired stormwater management company Ausdrain in a move that will see an immediate increase in its own manufacturing operations as it brings the Ausdrain product range in-house.
A Plus Plastics Managing Director and owner Matthew Holloway is an advocate for manufacturing in Australia and approached Ausdrain to propose the acquisition. "I actually picked up the phone and rang the owner of Ausdrain Gerard Jorna and asked if he was interested in selling, and it went from there," he says.
"I knew the majority of Ausdrain's products were injection moulded, so instead of proposing that we toll manufacture, I offered a complete purchase of the company.
"Like our existing proprietary products, most of Ausdrain's stormwater management range of drainage cell products and underground tanks are manufactured using injection moulding, so we'll be manufacturing those items from now on, as well as using what we learn from the acquisition to develop new products to add to the range.
"The Ausdrain range complements our own Geohex erosion control system, so we now have access to distributors and customers in different markets, both here and overseas. We also have a national warehousing footprint which will allow us to expand into locations otherwise not accessible prior to the purchase," adds Holloway.
Environmental sustainability is another key focus for A Plus Plastics, and Ausdrain products are made from 100% recycled post-industrial plastics.
Interestingly, much of Ausdrain's current product range has hitherto been manufactured by competitors of A Plus Plastics. A Plus will now start manufacturing those products at its Minto plant.
"Ausdrain is also attractive to us because it's the only company that manufactures stormwater management products in Australia," adds Holloway. "And given our recent droughts and the likely increase in those, there are so many opportunities in Australia and beyond for rainwater harvesting solutions."
A-Plus Plastics
02 9603 2088
aplusplastics.com.au