ACE GUTTERS: 60 YEARS OF HIGH QUALITY AUSSIE MANUFACTURING
16-11-2015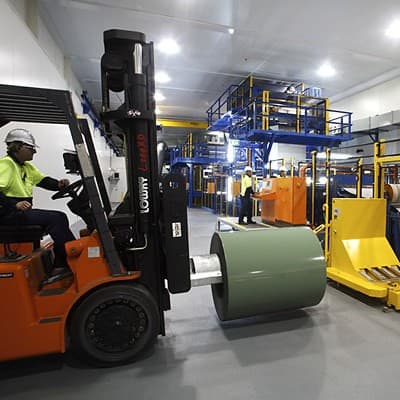 For over 60 years Ace Gutters has maintained a reputation as being a manufacturer of the highest quality rainwater products with a philosophy of looking at new and innovative ways to adapt and evolve within an ever changing marketplace.  
Established in 1953 Ace Gutters is an Australian owned family business located in Mortdale NSW with satellite manufacturing operations located in Braeside, Victoria and Nowra on the NSW South Coast.
In recent years with global competition increasing Australian manufacturers have faced some very challenging times.
As a result of this during 2008 Ace Gutters made the very bold decision to undertake significant capital investment in the purchase of a state of the art Bronx International Continuous Coil Coating Line. 
The reason behind this purchase was Ace Gutters found themselves in a position whereby their growth opportunities were limited due to the global competition, a competitive marketplace and the cost of purchasing pre painted steel for rollforming as suppliers of pre painted steel were in short supply, hence controlled the market.
In 2008 Ace Gutters introduced to the marketplace DuraKote an Australian made pre-painted steel product offering the consumer a high quality, competitively priced alternative to what was already available in the marketplace. 
Ace Gutters Durakote is a fully warranted product that is fully compliant to the requirements of Australian Standard AS2728.
AS2728 specifies requirements for the physical properties and long-term durability of prepainted and organic film, metal laminate products in sheet and strip form, coated on one or both sides and that are intended for fabrication into products for use in construction of buildings.
With test sites located in several of the most corrosive environments in Australia and New Zealand Ace Gutters Durakote is tested against the elements every day with all test results scrutinised by an accredited independent test authority.
In addition to this testing samples are taken from every coil painted by Ace Gutters as the product passes through the coil coating line, test stations and laboratory. 
Due to this extensive testing Ace Gutters can offer the consumer a full and uncomplicated warranty on all of their pre painted steel products including roofing, walling, cladding, gutter, fascia, downpipes and flashings.
Ace Gutters Pty Ltd

Ph: 02 9584 4777