ACCURATE, REAL-TIME DATA IN SUPPLY CHAIN DISTRIBUTION CENTRES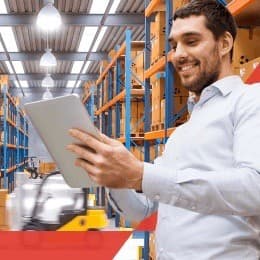 The e-commerce revolution has created unprecedented challenges for logistics companies. International freight forwarding companies are under pressure from their customers to be more flexible and to supply to more channels from a single source of inventory, faster and cheaper. Visa Global Logistics, one of Australia's largest privately-owned companies in this sector, realised it needed state-of-the-art solutions to meet these business needs and set out to find a new technology partner for its full network of distribution centres in Australia and New Zealand.
Visa selected the Manhattan Active Scale solution from Manhattan Associates for its flexibility and scalability in the face of constantly shifting supply chain demands and opportunities. The system uses advanced, proprietary algorithms to organise and optimise logistics operations and offers Visa a significant upgrade in terms of delivering mission-critical information in real time.
"There is an increased customer demand for live and valid accurate data, especially in the fast-moving consumer goods sector," Visa Global Logistics National Warehouse Manager Tony Baxter says. "Scale gives our customers a dashboard of their KPIs and access to all of their relevant information in a user-friendly platform."
Visa Global Logistics also chose Scale for its rapid implementation and easy-to-use customer interface.
"A big benefit for us is that Manhattan's solution will allow for onboarding customers much faster, taking only three hours, while the legacy system could take up to 30 days," Baxter adds.
Manhattan Associates Managing Director, Australia and New Zealand Raghav Sibal says, "With customer expectations around speed of delivery and transparency continually increasing, the pressure is on logistics providers to improve the efficiency and visibility of their operations. Our Manhattan Active Scale solution will offer Visa Global Logistics the flexibility and scalability needed to support the company's growth. Our fully managed cloud solution will also help them improve their overall customer experience and get goods to consumers faster."
Manhattan Associates
02 9454 5400
www.manh.com.au