ACCESSIBILITY DESIGN ON WORLD STAGE
01-08-2017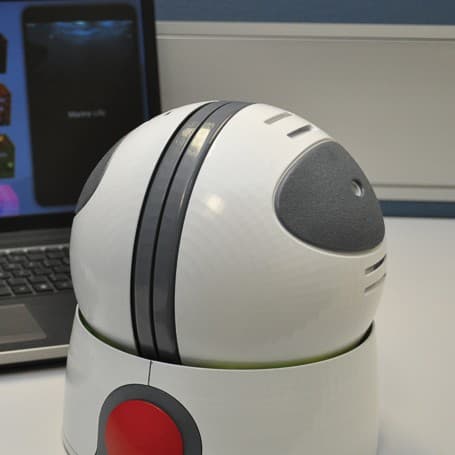 The OrbIT: an assistive user interface designed for ease of use for people with disabilities.
The South Australian creator of a gaming console for people with cerebral palsy has been invited to the World Health Organisation's (WHO) first assistive technology conference in Switzerland.
David Hobbs from Flinders University in South Australia developed an orb-shaped joystick called the OrbIT, which allows users with hand impairment to play video games.
Hobbs is travelling to Geneva, Switzerland today to talk about OrbIT and overcoming the barriers to developing assistive technology products at the Global Research, Innovation and Education in Assistive Technology (GREAT) Summit.
Hobbs said the WHO conference would be a significant recognition of how assisted technology supports and provides independence for so many people around the world.
"Cerebral palsy (CP) actually affects more than 17 million people," he said.
"OrbIT is a scalable system that allows people with hand impairments to play video games but what we found in our trials was the controller also resulted in improved social aspects and hand function for children with cerebral palsy.
"It's an accessible format where users don't have to worry if their hands have weaker fine finger control."
Hobbs said what made OrbIT so accessible was it used motion to interact with videogames instead of the buttons found on conventional consoles.
Hobbs and his research team are now working on a commercial version of the OrbIT called i-boll.
It works in a similar fashion to the original prototype but operates using an ordinary smartphone.
The smartphone's built-in accelerometer registers the i-boll as a joystick and allows the user to play smartphone app games.
Assistive technology, which groups together assistive products spanning from eye glasses and wheelchairs to sophisticated automated systems, is a critical and cost-effective tool that can enable full participation in daily life for millions of people, according to the WHO forum organisers.
However, only one in 10 people in need have access to assistive products and no country in the world has a national policy exclusively focused on assistive technology.
"Our multidisciplinary research team's aim was to encourage active use of the neglected hand through fun and meaningful play, capitalising on the inherent desire and motivation people have to play computer games, particularly children and young adults," Hobbs said.
"The summit will drive more research and policy agenda so it is out there for the public."
The OrbIT team are looking for partners to scale up the commercialisation of the i-boll, which it aims to have available within the next 24 months.
The project was a collaborative partnership between Flinders University, the University of South Australia, and the Women's and Children's Health Network in Adelaide. It was supported by funding from Flinders University, the Women's and Children's Hospital Foundation and the Channel 7 Children's Research Foundation.