ACADEMY HAS A GOAL OF ZERO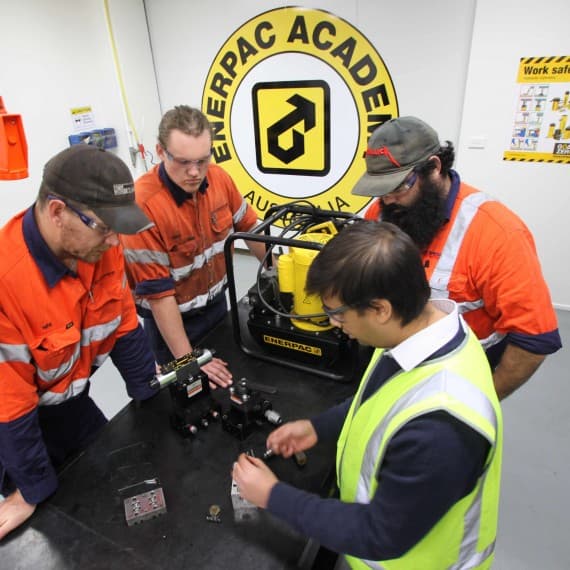 Enerpac is bringing its Enerpac Academy training programme to Australia and New Zealand to optimise hydraulic tool safety, service and maintenance.
Enerpac Academy training covers a wide range of hydraulic tools and components. A key aspect is the company's Goal Zero safety initiative, that draws on its extensive hands-on local and global workplace experience to promote the goal of zero harm to employees, customers and end users of both Enerpac and other-brand hydraulic machinery.
"Every major industry in Australia and New Zealand uses hydraulic tools, so correct service and maintenance is important to extend uptime, prevent breakdowns, remove workplace hazards and prevent workplace injuries," says Enerpac Product Engineer Sanjesh Balgovind, who regularly runs Enerpac Academy training sessions.
"The primary goal of the training sessions is to educate users on the safe and efficient use of hydraulic machinery, including Enerpac's compact, powerful and ergonomic 10,000PSI (700bar) hydraulic tools. If users don't respect hydraulic tool pressures, incorrect use can be deadly. Conversely, correct use and correct maintenance can be a huge asset to safety, precision and labour-saving efficiency," says Balgovind.
Another major component of Enerpac Academy training programmes is the testing and fault diagnosis of tools, to minimise downtime on-site or in the workshop.
Enerpac Academy training programmes are run every second month at Enerpac's Australian headquarters in Regents Park, NSW, and the company also performs on-site training throughout Australia and New Zealand to optimise workplace uptime and train users in an environment where they will be using the tools regularly.
"A lot of hands-on workshop personnel attend these training sessions and they particularly like that we pull the products apart so that they understand all the inner workings and design methodologies. We also see quite a few attendees from management who want to gain a better understanding of the safety practices their employees should be employing on a daily basis," says Balgovind.
"Another role our academy plays is ensuring that all authorised Enerpac service centres are comprehensively equipped and trained for servicing of our tools, including having adequate stock and storage space for all components and spare parts."
Enerpac
02 8717 7200
www.enerpac.com.au