AC INVERTERS OFFER EASY MOTOR DRIVE SOLUTIONS
27-10-2017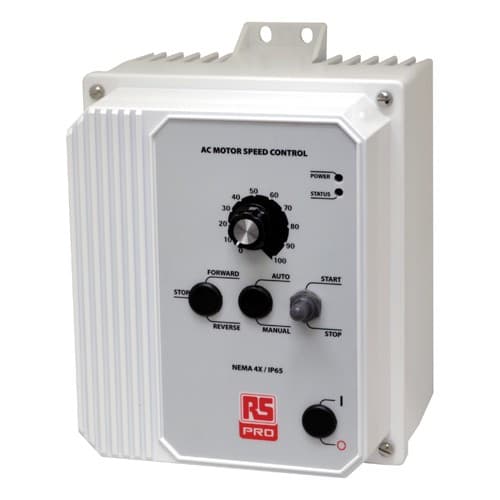 RS Components has come up with a range of own-brand AC inverters it reckons provide cost-effective answers to the demands of machine builders and maintenance engineers in processing and infrastructure industries.
Covering a wide range of single-phase and three-phase AC induction motors, the RS Pro series comprises 17 AC inverter drives. The majority are sealed to IP65 (washdown), and the two models in the RSMK series are rated to IP50. The inverters are ideal for situations where a robust and compact design is necessary, and can be used in various applications including conveyors, HVAC and pumps.
Available in epoxy die-cast-aluminium cases in two colours - rugged grey, and a white version that is FDA approved for use in food processing - the units offer easy operation with little or no programming required.
For example, the RDSA Series of high-quality and high-reliability inverters is available with power ratings from 0.75 to 2.25kW and features common sense programming (CSP) to organise parameters into easy to understand intuitive groups.
The range of inverters also includes features such as Modbus communications protocol compatibility, programmable four-digit displays, status indicator LEDs and multifunction keypads.
Pricing is highly competitive and compares well to fully featured digital drives that require difficult programming and/or are provided in less robust plastic cases.
RS is also supplying a range of high-reliability switches for use with specific models of RS Pro inverter drives. The RSACDC power on/off switch, for example, is designed for use with the RSAC-24D inverter; the switch kit can be installed on the front cover of the drive to provide a positive AC-line disconnect.
RS Components
1300 656636
au.rs-online.com